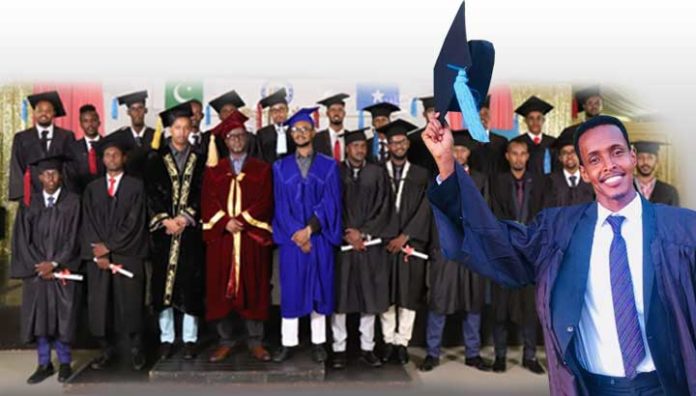 By: Atle Hetland
ISLAMABAD: 23 male and 6 female Somali students graduated from Pakistani universities recently. Abdi Kafi Abdullah is one of them who was the second best student of all Pakistani and foreign students, graduated in psychology this year. The students had studied at various universities in Faisalabad, Lahore and Islamabad. Abdi Kafi studied at the International Islamic University Islamabad, IIUI. He will now undertake Master's studies at Bahria University at the E-8 Islamabad campus. He says he has enjoyed his time in Pakistan.
"True, I miss my home country and my home town of Galkaio in Puntland in Central Somalia, and certainly my family and friends."
"After I came to Pakistan in 2014, I have not gone back. Interestingly, one gets used to staying away from home, and I have many Pakistani friends and enjoyed my stay in Pakistan, and also have friends from home and other African countries."
He says that it is easy to make friends at the student hostel. "I stayed at the hostel most of the time. Sometimes, it can become too social and we have to make sure that we study more than we socialize. Pakistanis are very social people", says Abdi Kafi.
There was a dinner held in after the graduation ceremony in one of the event halls in E-11 in honour of Abdi Kafi in Islamabad. The deputy Somalia ambassador, Ali Sheikh, was the chief guest. Also present were the cultural and commercial attaches at the Somali Embassy. Among the students were, Zade Abdi Shire, Ibrahim Ahmed Ali, Mohamoud Said Jama, and Muhammad Abdi Warsame, who is a very active member in the Somali community and student association.