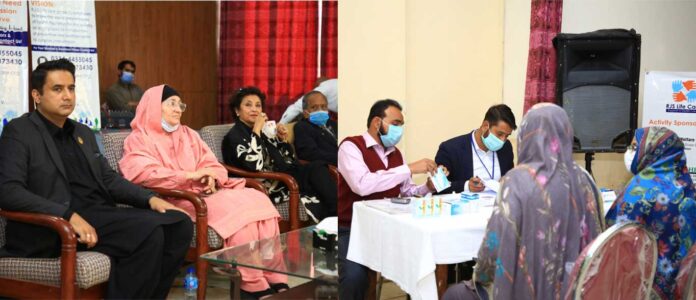 ISLAMABAD: A non governmental organization RJS Life Care in collaboration with city administration Islamabad on Sunday, organized a free medical camp in Islamabad's G-9 sector. Deputy Commissioner Islamabad, Hamza Shafqaat lauded the efforts of the organizers for setting up free medical camp and asked them to bring this camp to rural areas of the city.
Around 300 patients were facilitated for free medical checkup by consultants from different departments ,including General physicians, Gynecologist, urologist, pediatrician and nutritionist. Deserving community from the vicinity were provided with free medicines and diagnostic services.
"I had to see a doctor but couldn't make it because of financial constraints, today i have been examined thoroughly, provided with free medicines and my blood sample was also collected free of cost for further investigation" said, Basheera Bibi, a patient who was visiting medical camp the other day.
All arrangements were made by volunteers of RJS and opening ceremony was graced by Deputy commissioner of Islamabad Hamza Shafqaat, MNA Nafisa khattak and former ambassador Salahuddin Chaudhary, Member NCRC Dr. Rubina Fareed and others. The first patient, registered for medical checkup was the chief guest of the event.
President RJS, Syed Shahzaib Haider and Executive Director Asim Nawaz vowed to continue such event to support the poor class of society. Chairman RJS life care Dr Rashid Jahangir gave closing remarks and thanked all the volunteers and the guests who participated in the event.