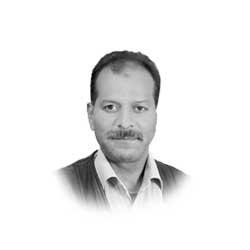 By: Asem Mustafa Awan
Prime Minister Imran Khan has categorically cleared all the mist and rumours that have been in the air for days about the provision of military bases to the United States for conducting operations in Afghanistan. The denial to Central Intelligence Agency (CIA) and refusal to meet its head is a clear message to the world that Pakistan will not use its soil against Afghanistan. The withdrawal of US troops from Afghanistan is anticipated in the world with mixed feelings. The Afghan government's recent statements about Pakistan have been very hostile and with US troops leaving, it is believed that Afghanistan will have a power struggle resulting in a bloodbath that is likely to affect millions.
Rejecting the US presence on account of variance of situation also shows Prime Minister Imran Khan's stance who has been very vocal about peace in Afghanistan through dialogue. History has Imran Khan vocally opposing the supply route through Pakistan to Coalition Army that attacked Afghanistan in the past.
All this has happened at a time when a tweet from Pentagon official surfaced in which it was stated that Pakistan is ready to provide US with military bases for operations during and after the withdrawal of the US troops from Afghanistan.
This resulted in an uproar nationwide and Foreign Office denial to this statement was considered insignificant. The CIA head's visit was viewed after the denial as altering the Prime Minister's stance. All the whispers died down with the refusal from Prime Minister's side who refused meeting the CIA head.
After 9/11, United States sent troops and conducted airstrikes in Afghanistan besides ground support from two air bases namely Shamsi in Balochistan and Shahbaz in Sindh. US airplanes flew from both the airbases besides drone strikes. Shahbaz airbase was shut down before 2011 while Salalah checkpost attack in Mohmand Agency made Pakistan to restrict the land route in 2011 besides closing off the Shamsi base.
All this is coming at a time when US troops withdrawal has made Afghanistan government lashing out at Pakistan which is believed to have the backing of Afghanistan.
Field Marshal Ayub Khan book 'Friends Not Masters' is an eye opening account and the US involvement namely CIA's hand in toppling different regimes is all documented. Giving access and submitting to US demands at this juncture may result in opening another conflict for Pakistan and this Pakistan cannot take. The alliance in the past with the United States has resulted in colossal losses to Pakistan in both men and material. The experts believe there is likelihood of civil war in Afghanistan as the US troops leave the land and all hell is going to break loose from left, right and center.
It is in the interest of the state to act in accordance with what seems right; fighting someone's else war has cost in the past a lot. Over 70,000 martyrs in the form of soldiers and countrymen are not with us anymore, as this is the price Pakistan paid when it partnered with US on 'war on terror'.
The writer is special correspondent at the 'The Dayspring'