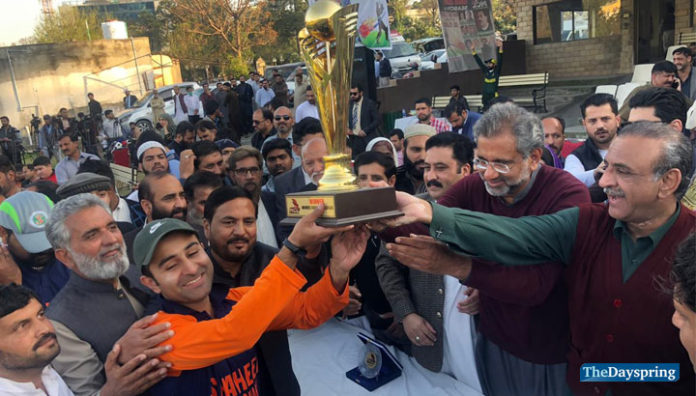 I wish to see the young talent of Murree playing at higher levels in the game of cricket, Shahid Khaqan Abbasi
By: Our Correspondent
ISLAMABAD: The finale of Murree Premier League was held in Islamabad between Aliyot Shaheens and Bhurban Greens. As part of the Haq Nawaz Abbasi Murree Premier League Season II, the final match was played between Bhurban Greens and Aliyot Shaheens, Playing with the bat first Bhurban set the target of 136 runs in 20 overs. Aliyot Shaheens chased the score in a splendid way with some smashing hits.
The chief guest of the tournament and former premier of Pakistan Shahid Khaqan Abbasi praised the young talent and said that he wishes to see the cricketers from Murree at the national level. Haq Nawaz Abbasi while speaking said that such tournaments are meant to provide healthy activities and at the same time provides a platform for young cricketers to excel. Rizwan Ali of Aliyot stood man of the match, best batsman award was bagged by Bilal Masood while best all-rounder of the tournament award was given to Ahsan Abbasi of Bhurban Greens.
Ex-Prime Minister Shahid Khaqan Abbasi, Vice President PML-N Punjab Raja Atique Sarwar, General Sec. PML(N) Murree Haq Nawaz Abbasi, Senior V.P PML(N) Rawalpindi Raja Usama Sarwar, President PML(N) Muree Raja Daftar Abbasi, Coordinator Shahid Khaqan Hafiz Usman, Deputy Mayor Islamabad Syed Zeeshan Naqvi, Chairman M. Sajid Abbasi, Asghar Abbasi, Journalist Amir Saeed Abbasi, President RISJA Shakir Abbasi, Arshad Abbasi, Naseem Abbasi Advocate, Junaid Farooq, Zafar Abbasi, Ayaz Abbasi, Raja Yasir, Yaqoob Butt and others were present at the closing ceremony of the tournament.