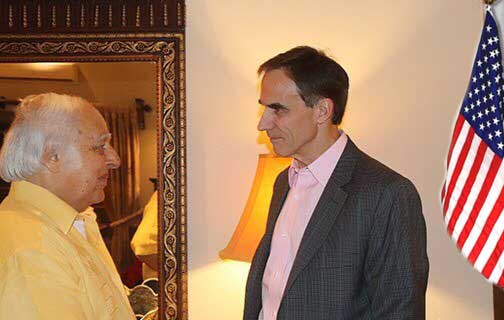 Ambassador Paul Jones is America's Chargè d'affaires in Pakistan. He is rarely seen at diplomatic events in Islamabad, but last week he made an exception when he attended Senator M. Enver Baig's large summer dinner reception at his elaborate hillside home off the main road to Murree outside Islamabad. Paul Jone's wife, writer Christine Jones Cooks, was unable to attend as she was in USA. Recently, she released a new book.
The event was well attended by foreign diplomats, retired Pakistani diplomats, members of the business community and other guests. Senator Baig's wife, sons and daughters attended, including Najeeb Baig, who is honorary consul general of Lebanon to Pakistan, attended the event. Sameer Baig, who is Uruguay's honorary consul general was abroad and unable to attend.
Among the guests was another family member, Saad Mahmood, who is Iceland's honorary consul general to Pakistan; he took over after his father who served for three decades. "Last summer, my whole family visited the fascinating island of Iceland. I will again be in the country's capital Reykjavik at end of September when all of Iceland's consuls abroad attend their annual meeting", said Saad Mahmood, and he mentions that Iceland is never extremely cold but since it is in the middle of the Atlantic Ocean between Europe and USA, the weather is always unpredictable.
Senator Enver Baig said he was honoured that Ambassador Paul Jones was able to attend the event as chief guest, just a few days away from the 4th of July, the American national day.