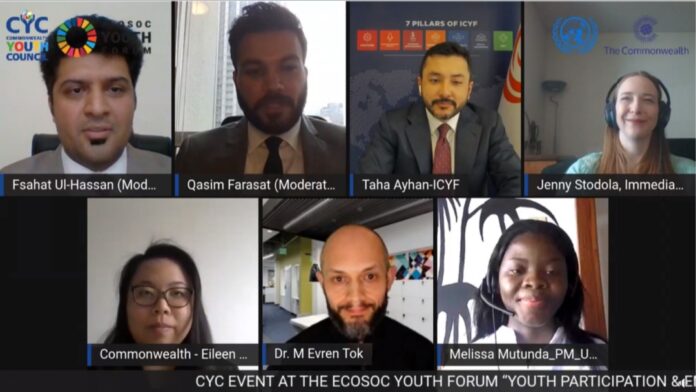 NEWS DESK
ECOSOC Youth Forum was organized virtually with participation of youth representatives, governments' officials and policy experts from around the globe. With an aim to improve coordination and cooperation among young people from Asian region to collaborate on achieving SDGs and meaningful youth participation, Asian Youth Union was also launched during the forum.
Commonwealth Secretary-General Patricia Scotland QC, in her opening remarks focused on the adversaries of COVID 19 and its long lasting impacts on young people. She said that the pandemic has created the largest destruction of education system in history effecting 1.6 billion learners in more than 119 countries. She also said that Commonwealth Youth Program which is based on youth engagement and action is working hard to bring social equality and this strategy will engage young people to address various issues pertaining to youth.
United Nations Secretary-General's Envoy on Youth, Jayathma Wickramanayake lauded the organizers of the event and said that such events open up spaces for young people to share their mission and action to address all the important topics that are relevant to the lives of young people.
Commonwealth Youth Council's Asia Representative, Qasim Farasat and Fsahat-Ul-Hassan, CEO of Youth Advocacy Network (YAN) moderated the sessions of the virtual event.
Other speakers of the event were Md. Zahid Ahsan Russel State Minister for Youth & Sports, Government of the People's Republic of Bangladesh, Alla Kondratyeva Deputy Minister for Youth Affairs of Republic of Tatarstan, Russian Federation, Taha Ayhan President of Islamic Cooperation Youth Forum (ICYF, Rabia Kasuri Counsellor Political, Pakistan High Commission United Kingdom,Jenny Stodola Immediate Past Chair, Royal Commonwealth Society of Canada, Melissa Mutunda Project Manager, United Nations Association in Canada, M. Evren Tok Assistant Dean for Innovation & Community Development, College of Islamic Studies and few others.