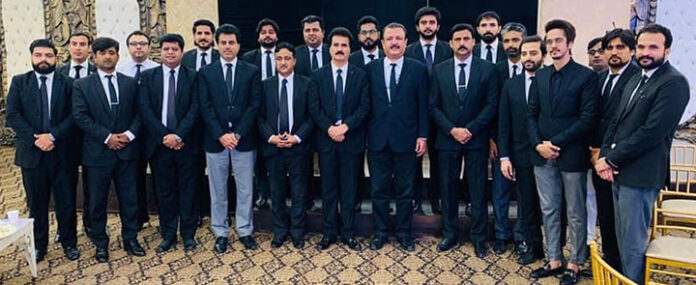 By: Our Correspondent
ISLAMABAD: Newly established 'Bahria Young Lawyers Forum' organized an event in the honor of senior lawyers of twin cities. Event aimed at bridging the gape between senior lawyers and fresh law graduates, was attended by senior lawyer Advocate Supreme Court Tariq Mehmood Jahangiri, former Deputy Attorney General, Raja Aleem Abbasi, Chaudhary Haseeb President Islamabad High Court bar association, Zafar Khokhar President district bar, Asad Abbasi advocate High Court, Sajjad Akbar Abbasi and others.

Young lawyer Sikander Nawaz Abbasi, in his welcome speech gave overview of the objectives of the forum. He stressed the need to take necessary steps to root out hurdles for newly enrolled lawyers of Islamabad and Rawalpindi.
Former deputy attorney general, Raja Aleem Abbasi said that young lawyers are future of this country and they should not be afraid of the problems that come on their way. "In your professional careers you will be offered perks and money but don't ever let money supersede your professional duties" Aleem said while giving a piece of advice.
Tariq Mehmood Jahangiri, senior lawyer supreme court of Pakistan welcoming the formation of forum said that lawyers are considered to be the custodian of the law in our societies and young lawyers should maintain this status and work for the rule of law and be the support of oppressed ones.
Asad Abbasi, advocate high court termed the forum a great initiative and advised young lawyers to work hard to attain the position of reputed lawyers.
Ch. Haseeb president Islamabad high court bar, Zafar Khokhar, Sajjad Akbar Abbasi, Atif Majeed, Hammad Satti, Haider Bin Masood, Raja Saad, Raja Huzaifa, Fayyaz Abbasi and others also attended the event.
At the end young lawyers and organizers of the event, Sikander Nawaz Abbasi, Ch. Imran Rashid, Waheed Qureshi and Ali Almas thanked senior lawyers and all the participants for gracing the occasion with their presence.