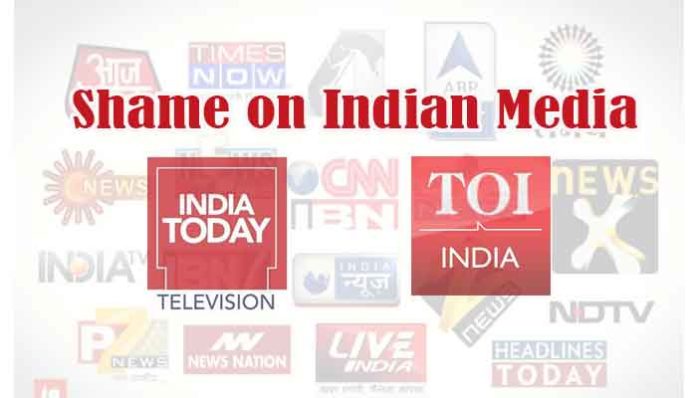 In India bringing up anti Pakistan sentiments are easy way of attracting public to win elections, but this is now an old stuff that won't work this time said many experts and political analysts around the globe. During the tensions between two neighboring nuclear powers, had come many times where India media was exposed to the entire world that has brought two nuclear powers on the brink of war. The shame that India got because of the hypocritical and irresponsible behavior of its warmongering media has badly affected the image of India. Serious minds even inside India are blaming Indian media for propagating false news and keeping the nation away from facts during the whole scenario of Indo-Pak tensions.
It is very likely that BJP has invested a huge money on Indian Media for supporting its moves to win upcoming elections. People are now pointing Modi regime and Bharatiya Janata Party (BJP) for , Pakistan Tehreek Insaf has also showed serious concerns about the Bharatiya Janata Party (BJP) of warmongering to win elections.
Amid heightened tension between India and Pakistan, Karnataka BJP chief BS Yeddyurappa said that IAF airstrike in Pakistan would help secure seats for the party in the upcoming Lok Sabha election.
He said that the airstrikes on February 26 had led to a "pro-Modi" wave in the country.
BJP chief BS Yeddyurappa further strengthened the accusations by saying that "The atmosphere… day by day the wind is increasingly blowing in favour of BJP. the action of IAF jets entering inside Pakistan has resulted in a pro-Modi wave in the country, the results of which can be seen in coming Lok Sabha polls."
Retweeting a statement by an Indian journalist that condemned Yeddyurappa's comments, the PTI said that "We hope you understand that you were manipulated into war mongering. Let Better Sense Prevail. Isolate the who [are] desperate to win an election. War is in no nation's interest & its soldiers & civilians who are the collateral damage. Don't let one man use it for political mileage."
Prime Minister Imran Khan in his speech during joint session of the parliament (where he also announce to release the Indian Pilot as gesture of good peace) criticised Indian Media for playing with the sentiments of Indian nation and promoting war hysteria.
Khan's party said the issue had become their concern. "When your domestic politicking is taking the region to a brink of war, and Pakistan being dragged in, it becomes our business," the PTI tweeted.
Pakistan has repeatedly accused the BJP of precipitating war-like situation in the region in a bid to win the upcoming election.