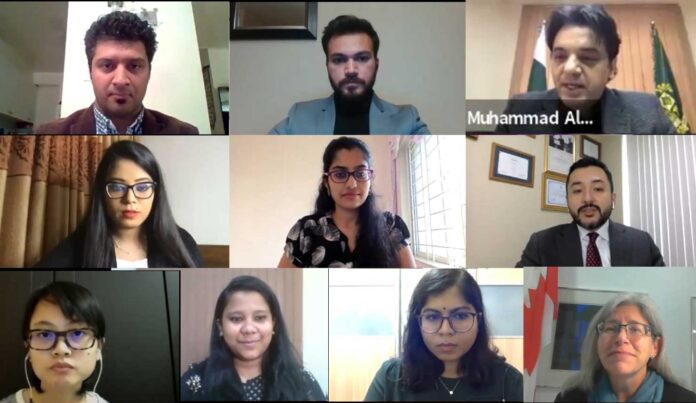 By: Our Correspondent
ISLAMABAD: Commonwealth Youth Council (CYC) organized an International Webinar to bring together World Leaders, Youth Activists and international organizations to discuss youth involvement and engagement on the issue of climate change, specifically in the Asian Region.
The webinar, chaired by Special Assistant to the Prime Minister Pakistan on Youth Affairs Usman Dar, also focused on that how an Asian youth collaboration mechanism could provide an opportunity for youth to work together in tackling common regional challenges. The webinar was hosted by the elected executive of the CYC, Qasim Farasat.
Dar in his welcome note highlighted the importance of youth engagement in policy making and specifically in the times of the pandemic. The guests attendance was by High Commissioner of Canada to Pakistan Wendy Gilmour and Environmental scientist at the School of Marine & Environmental Sciences, University of Malaysia Terengganu Dr.James Tan Chun Hong.
The panelists made key remarks on the issue of climate change and the opportunity for Youth on their meaningful role & participation in tackling this challenge.
Engaging interventions were made by Taha Ayhan – President Islamic Cooperation Youth Forum (ICYF), Heeta Lakhani – YOUNGO Global Focal Point for United Nations MGCY, Archana Soreng – United Nations Secretary General's Youth Advisory Group on Climate Change, Fsahat Ul Hassan – Convenor SAARC Youth Platform, Aroe Ajoeni – Asia Climate Rally Lead, Klima Action Malaysia (KAMY) and Fahmida Faiza – Youth Activist and Commonwealth Asian Committee member. All conversations aligned to the idea of establishing a Youth Collaboration mechanism in the Asian region currently having the highest Youth cohort ever in history, yet the most divided and separated.
In the Closing remarks, Qasim Farasat mentioned the needs fulfillment of young people and to develop and strengthen the youth unity in the Asian region via a collaboration platform.
The CYC Asia Program assistant, Kavita Maheendran summarized the discussions on the unanimously agreed points: To continue educating people on environmental issues; to empower youths to continue stive in climate change cause and to understand anthropogenic activities contributing to deterioration of the environment.
In the end all participants highly acknowledged CYC's work for the meaningful youth participation and capacity building of young people of the Asian Region, under the leadership of Qasim Farasat.