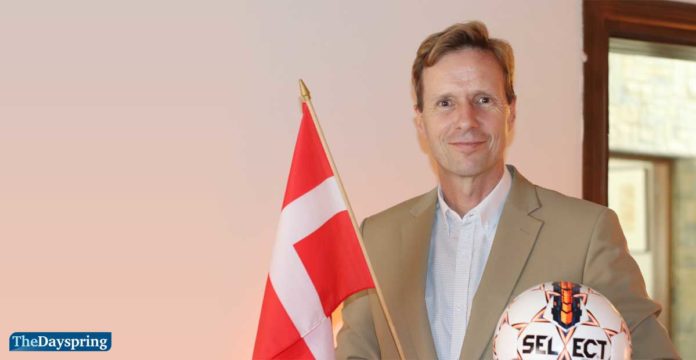 ISLAMABAD: Ambassador Rolf Holmboe held a simple afternoon coffee session about a big event for some media people and friends at his residence in Islamabad to commemorate the 800 years history of the Danish flag called the 'Dannebrog'.  According to the legend, the 'flag of peace' fell down from the sky at a battle in what is now Tallinn, in the Baltic state of Estonia, which that time, in 1219, was under Danish rule under King Valdemar Sejr.
The Danish flag has a white cross on red background, which is indeed a Christian symbol. All the Nordic flags have a cross, in various colours, to distinguish one country from the other.
"Recently, there was a ceremony at St. Mary's Cathedral in Tallinn and a large outdoor event at Freedom Square in the presence of Queen Margaret II of Denmark, who visited Tallinn to celebrate the 800th anniversary of 'Dannebrog' and the 100th anniversary of Estonia. Since 1912, the Danes have celebrated Valdemar Day on 15 June. Since 1920, it is also a memorial day for the reunification of South Jutland, or North Schleswig, which had been German", said the ambassador.
He explained that Denmark doesn't really have a national day, although 5 June is commemorating the Danish Constitution of 1949, with later amendments on the same date including voting rate for women in 1915. "The Queen's Birthday on 12 April is also an important spring celebration for the Danish people, including some 30,000 immigrants from Pakistan", said ambassador Holmboe.  
He said that Denmark has close cooperation with Pakistan in trade, with Pakistan having a trade surplus with Denmark. Pakistan exports millions of top quality handmade footballs to Denmark.
He said that over one-fifth of all export of goods from Pakistan is transported by the Danish 'Maersk Line' ships. He said that the aid programme has been completed but there is growth in trade and industry cooperation.
He also drew attention to cultural cooperation, including annual visits to Denmark and the other Nordic countries by Pakistani journalists from print and electronic media. In late autumn, the Danish-Pakistani fusion band, 'Rockvali', will perform in Karachi.