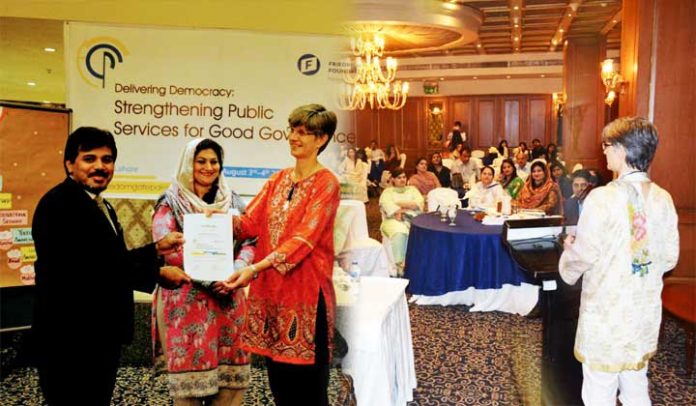 LAHORE: To engage citizens in governance and bring transparency into the system through participation and accountability, FreedomGate Pakistan with the support of Friedrich Naumann Foundation (FNF) organized an interactive dialogue titled "Delivering Democracy, Strengthening Public Services for Good Governance " in Lahore.
Attended by writers, journalists, political activists, lawyers and civil society leaders focusing on continuity of democratic process said that it is imperative for the development of country. In spite of the fact that democracy is gaining roots and being strengthened through continuity and sustainability; still the transition of quantitative democracy to qualitative democracy is a dream and unfolding reality, participants discussed during the dialogue.
While discussing the state of democratic governance and public services in Pakistan panelists professed upon the dire need to engage citizens in governance and bring transparency in to the system through participation and accountability. It was discussed that it is the improved public services that connect citizens with the governments and state and democracy becomes substantial.
Panelists also highlighted the requisite of deliverance and said that fruits of democracy should be trickled down to the citizens and local government system should be strengthened for good governance and civic amenities. Justice (Rtd) Faqeer Muhamad Khokhar, Mian Imran Masood, Wajahat MasoodJami Chandio and Muhammad Anwar, spoke on the occasion. Ms Birgit Lamm, Head of Country Office FNF Pakistan delivered the concluding keynote speech which was followed by certificates distribution among the participants.

The Moderators Jami Chandio and Asma Pervez urged that to strengthen the democracy in the society, the citizens should play their individual role.

One of the participants from Islamabad, Ch. Fahad Bhutta while talking to 'The Dayspring' said that democracy cannot be strengthened in the society till every individual knows their rights and responsibilities. We demand our rights from the state but we are not ready to fulfill our responsibilities, he said.