By: Our Staff Reporter
"There are many good things in Pakistan to praise, but I liked the people and will miss them," said Brazilian Ambassador Claudio Raja Gabaglia Lins, in his farewell speech at a reception held in Islamabad in the mid of January 2020.
The party was hosted by the Brazilian Embassy at Marriott Hotel. Both parties were festive and well attended by Pakistani friends and fellow diplomats.
Wasim Khokhar, CEO Bridging Trade International while talking to The Dayspring said that during the tenure of Ambassador Claudio Raja Gabaglia Lins, cultural and bilateral relations between Pakistan and Brazil touched new heights. "We will miss the Ambassador and his family, and we are looking forward to working with upcoming Ambassador", said Khokhar.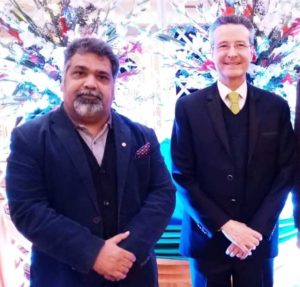 The next posting for Ambassador Lins is The Bahamas, a small Caribbean country close to home, and important to Brazil in tourism and trade, in spite of its tiny population of less than half a million people, but over six million tourists annually, most of them on cruise ships making stops at the 'paradise island'.