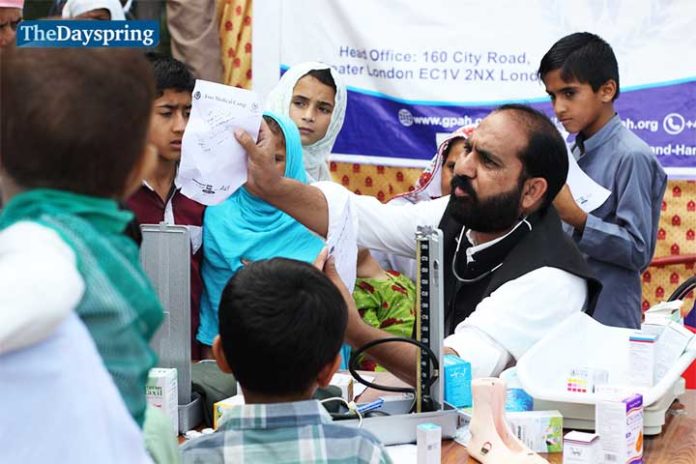 By: Junaid Qayyum Abbasi
ABBOTTABAD: The district administration in collaboration with Global Peace and Harmony (GPAH), an international organisation, arranged a free medical camp at the Basic Health Unit (BHU) Mohra Birote Khurd, Abbottabad where free treatment and medicines were provided to at least 1400 patients, including women and children.
As per details, prominent medical practitioners, including lady doctors, were available at the camp to examine patients and provided necessary facilities.
Talking to The Dayspring, Assistant Commissioner Abbottabad, Usman Ashraf said the free medical camp was setup in the area for treatment of masses and in order to ensure healthcare facilities to public.
He said it was responsibility of doctors to help needy patients who visited medical camp from far flung areas for aiming to treat because doctors are great professional, despite he also expressed his satisfaction over performance of health staffs including doctors and nurses.
He also met with a large numbers of patients including children, women and aged men in the medical camp and termed it a great effort of District Health Office and the GPAH to initiate free medical camp in respective area to ensure treatment of common men.
He also inspected facilities of the free medical camp and its medicines at moment Deputy District Health Officer (DDHO) Abbottabad Doctor Shazad Iqbal, District Coordinators Dr. Shah Qadir and Dr. Osama, Seemab Abbasi, Secretary general GPAH Pakistan, Fahad Misson, Dr. Abid Abbasi members GPAH Team, Shamran Abbasi head development movement and his team, senior doctors, local leaders and other civil society members were present on the occasion.
"We provided free medicines to the patients," Dr Shehzad, Deputy District Health Officer (DDHO) Abbottabad said, adding that ENT, Dermatology, Gynaecology and specialists from other fields provided their services at the camp. Shehzad said more such camps would be held in far-flung area of Birote Khurd.
He informed that around 1400 patients, including children and women, were examined and given medicines in the medical camp. He said a team of doctors, including lady doctors and paramedics, were part of the medical camp.
Shehzad said most patients were suffering from skin, eye infections, dehydration and gastroenteritis. Patients also complained about toothache. The main cause of these diseases and infections was malnutrition and poor hygiene, he added. He said doctors referred 80 patients to other health facilities. Doctors asked the patients to adopt preventive measures to protect themselves from plethora of diseases.
CEO GPAH Amira Shah and Chairman GPAH Dr. Naveed Razaq Chauhdary were of view that purpose of the camps is to reach to those people who cannot afford the cost of the treatment. They vowed that in coallobration with the government authorities they had decided to increase the number of medical camps in the area to facilitate the local dwellers. They further said they are happy that medical camps were successfully providing free medical facilities to the poor people in need.
Local elders and residents highly appreciated the endeavors of District administration and GPAH to mitigate sufferings of local people residing in the distant areas.