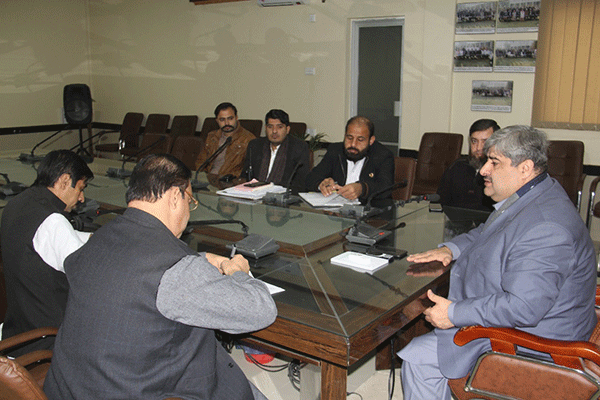 Interview By: Ikram Ud Din 
The Dayspring's team had a chance to meet and interview Dr Khalid Masood Director KPK's biggest Lady Reading Hospital which is located in the capital of Khyber Pakhtunkhwa, Peshawar. Khalid Masood is favourite of many because of his commitment towards what he has been assigned as a Director of the Hospital. He was born in FATA – Tribal area of Hangu. Dr Khalid Masood is a great respected and scrupulous officer of Khyber Pakhtunkhwa whose public services are not hidden from anyone, His services for patients are worth mentioning. His aim is to serve humanity in best possible way keeping in view the teachings of Islam. Besides the doctorate degree, He also has got MBA degree in Health Management, Master in German Relations and English Language and has been in-charge of OPD.
About The Lady Reading Hospital:
In 1923, A woman called Lady Reading had a fractured on her foot in LRH and after that the same woman laid the foundation of the hospital by paying Rs 50000 and the Bolton block was attributed to her husband's name Bolton. During an interview with"The Dayspring Newspaper" Dr Khalid Masood said the total area of ​​Lady Reading Hospital covers 240 kanals and it has 1780 beds and total Staff is 4170. Dr. Khalid Masood said that there is OPD of 6000 to 8000 patients on daily basis and there are 160 to 170 Major Operations and 200 to 250 normal operations daily.The new building in Lady Reading Hospital will be completed in April 2019,which contained of 330 Beds and there is also LRH's colony of 136 quarters.There are 55 people from private  security and 120 security guards in LRH whose security incharge is Umar Sayaf.LRH has been changed with full reforms in last 2 years,Therefore whole structure in LRH is changed now.The Board of Governors has a meeting quarterly and has four directors in the hospital:Medical Director,Nursing Director, Finance Director,HD Hospital Director.In addition to the quarterly session, emergency meeting is also called when there is an emergency such as Strike.From 2015 to 2016 there is 28% decrease in tests and Profit has been 21% which means that free tests etc Which were done before now stopped and now same procedure is available for all,Now the test and ultrasound method has been done online and additionally cleanliness of the hospital is fantastic,But patients with attendees create problems for staff and other patients.He was talking to the media representatives that there is no lack regarding security.Director Professor Muhammad Khan said that physiotherapy is of modern style and a special unit has been set up for disabled children, where adequate children are becoming healthier living a normal life. Lady Doctor Physiotherapy Muhtarma Najma, briefed the representatives in detail, Media representatives said that there were expensive medicines in pharmacy department for patients which were being provided free to patients,When Media representatives asked patients in OPD,they expressed satisfaction and appreciated the hospital system that they are not facing any kind of trouble anymore and everyone is equally facilitated.Emergency director Hamid Shahzad said that staff of wards, X-Rays,laboratories are extremely public friendly  where patients do not face any sort of difficulty   and free of cost medicine and treatment is provided in Emergency. He said that about 80% of the change in the hospital has been seen in the hospital. Khalid Masood director of Lady Reading Hospital responded to a media question and said that there is rush in hospital due to the coming of 30000 to 40000 people on daily basis which make lot of difficulties in cleaning, Therefore specially the public needs to be self-cleaning and avoid coming to hospital unnecessary so that hospital staff do not struggle. He said that Security arrangements are extremely high and better security arrangement credit goes to Security in charge Umar Sayaf,Lady Reading Hospital is very secured in every aspects. Director Dr Khalid Masood finally thanked the media team and praised the international services of Ikram ud Din and said that May Allah keep the "The Dayspring Youth Centric Newspeper Of Pakistan" safe and give all the journalists courage to write and speak the truth, because it is the sign of the believer to write the truth and speak the truth. In the end, he prayed for the country that May Allah save all of us from the troubles and keep the country in peace and harmony, Ameen.