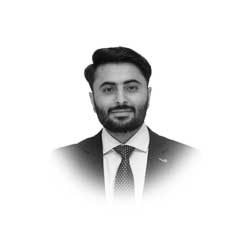 By: Muhammad Hammad Ahmed
Today, the world is on the brink of technological evolution which would completely revolutionize the way of interaction between individuals and will not only outgrow outdated technology but will help people to connect with more ease and flexibility. Pakistan being a cognizant of youth potential, has placed the digitization as one of its top priorities. As Pakistan is a hub to technological expertise, it devised the first ever policy of e-commerce in October, 2019 for the promotion of e-businesses due to the staggering growth of e-commerce in the global world. The main vision of this policy is to strengthen the emerging e-commerce industry of Pakistan which has the potential to enhance the country's economy. It also aims to create an environment of growth across all sectors along with the protection of buyers and seller. It would also promote small and medium enterprises (SMEs) to make Pakistan an important player in the world's digital economy. The main objective of this policy is to promote the growth of e-commerce through certain measures and implementations by reducing the cost of doing business, and thus strengthening the local digital market. Though, the e-commerce industry of Pakistan is still in its early stages, but there is a rise in e-commerce transactions and the number of registered e-commerce merchants which increased from 496 in 2017-18 to 1242 in 2018-19.
This policy pursues to boost this positive trend and would create a platform for the developing of e-commerce industry by fostering the growth of existing e-commerce companies. It would also allow and encourage new entrants, facilitate trade across the borders by reducing the cost of business. Beside this, it would also increase the competitiveness and would strengthen the overall digital economy. This policy would also help Pakistan to accomplish and to implement the sustainable development goals i.e. SDG-8 (Sustainable economic growth and productive employment), SDG-9 (Build strong infrastructure, promote sustainable industrialization and foster innovation), and SDG-12 (Ensure sustainable consumption and production patterns).
Furthermore, this policy also highlights the current state of e-commerce in Pakistan by depicting that e-commerce offers the same opportunities to the developed and less developed countries. These primarily include access to distant markets, promoting innovation, creating employment opportunities, rapid exchange of goods and services and secured e-payments. Moreover, it has the potential to provide an opportunity to the less developed countries like Pakistan to cope up with the technological advancement and socio-economic development. In Pakistan, e-commerce can play a vital role in improving the standard of living, increasing competitiveness among enterprises and increasing their share in the global trade. According to the report of state bank of Pakistan, with an increase in the use of digital finance services, Pakistan can increase its GDP by $36 billion and can create up to 4 million jobs by 2025.
Currently, Pakistan has more than 5000 IT companies & call centers, more than 300,000 English speaking IT professionals, 13 software technology parks and more than 200, 000 IT graduates are being produced each year. In the past two decades, it has developed a strong ICT sector by liberalizing the telecommunication sector, creating an environment of expanding IT-services industry and cultivating an information society with wider diffusion of the internet. In Pakistan, the overall share of services sector in real GDP was 60% at the end of fiscal year 2018 which was greater than the average of South-Asian region. Services sector has been witnessing an evolution and shifting towards digitalization due to the growing penetration of internet as internet is transforming the way consumers and businesses gain and share information and execute their transactions. It is also reshaping the behavior of consumers in terms of convenience, cost saving and retail experiences through enhancing the digital connectivity. Businesses are also capitalizing on opportunities through digitalizing in terms of supply chain efficiency, lower transaction cost and addressing consumer needs in more flexibility.
Pakistan is one of the economies where digitalizing is producing changes in the components of services sector.  The shift is most prominent in areas like e-commerce, fintech, and e-government where new ventures and approaches to deliver services are increasing. The market size of e-commerce in Pakistan has grown significantly in last few years as according to UNCTAD's B2C e-commerce index (United Nations Conference on Trade and Development), Pakistan ranked 117 out of 151 countries on e-commerce readiness in 2018. Moreover, there has been an increasing surge in the number of online vendors, local e-commerce platform and online payment facilities introduced by banks and cellular companies.  By the efforts of government the internet accessibility has been also improved. As per PTA's data, there were 161 million cellular subscribers, 70 million 3G/4G subscribers and 72 million broadband subscribers with a total tale-density of 76.56% in 2019. Beside this, the number of e-commerce merchants increased by 2.6 times and e-commerce payments increased by 2.3 times in 2017-18. Although the results show a positive trend over the last few years in the adoption of e-commerce in Pakistan, but still it lags behind as compared to other economies in e-commerce. Hence there was a need to formulate this policy, which had to encourage e-commerce and which could also regulate the e-businesses.               
Pakistan is a country where there are myriad of opportunities in e-commerce as it is a hub of technological expertise with the potential of youth due to which the government for the very first time devised an e-commerce policy in 2019 with a purpose of encouraging the growth of emerging industry of e-commerce to make it as one of the main drivers of the economy. Moreover, the policy also focuses to support SMEs as they are very important and have the potential to take Pakistan towards digitization. Furthermore, this policy also aims to help the country in achieving the SDGs goals in terms of economic development, infrastructural development and strong pattern of production and consumption. Besides this, the policy is divided into 9 major portions i.e. regulation environment; establishing of e-commerce council, financial inclusion and digitalization through payment structure; aligning it with international payment structure (PayPal), empowerment of youth and SMEs; through trainings and funding, taxation of e-commerce activities; harmonization of tax structure to avoid double taxation , protection of consumers; through the establishing of online resolution dispute system, strengthening of ICT structure; by signing of policies and distributing of different android devices, logistics; by converting it into digital system, data protection; through cloud policy and data protection act and global trade; by providing accessibility to foreign markets. It is believed that through the proper implementation of this policy, the economy of the country would grow exponentially as it is designed in such a way in which it would secure and spread the e-commerce activities in the whole country. Moreover, this policy would use different tactics to spread the awareness about the potential of e-commerce which would not only outgrow e-business but would also bring a digital future for Pakistan as it would help to align e-commerce activities in almost every sector of Pakistan i.e. Food, agriculture etc. However, it lacks in providing a clear instruction that how the regulation will be promulgated for e-commerce along with no detailed implementation measures and no direction for the aligning of payment structure with international standards. Hence, e-commerce can make Pakistan one of the largest growing economies of the world if the devised policy is implemented with all the zeal.
The writer is Mphil student at National Defence University, Islamabad. He can be reached at [email protected]