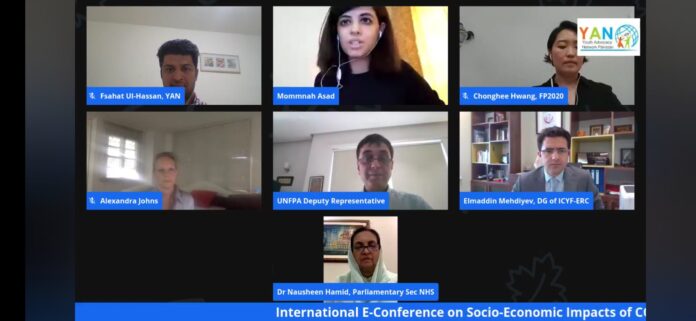 By: Our Correspondent
ISLAMABAD: To assess the socio-economic impacts of COVID-19 on population and young people International E-Conference was held. The online session was organized by Youth Advocacy Network and attended by Dr. Nausheen Hamid – Parliamentary Secretary, Ministry of National Health Services, Alexandra Johns – Executive Director, Asia Pacific Alliance, Chonghee C. Hwang – Senior Manager Asia, Family Planning 2020, Bakhtior Kadirov – Deputy Representative UNFPA, Elmaddin Mehdiyev – Director General ICYF-ERC and representatives of other international organizations.
In her opening remarks Dr. Nausheen Hamid – Parliamentary Secretary, Ministry of National Health Services enclosed a bounce compliment support in correlation to alliance and proclaimed that, "The socio economic gaps are vital for the government to determine, because the response that government will determine in coming days, depends upon how we assess the socio economic effects."
Alexandra Johns – Executive Director, Asia Pacific Alliance shared that in relation to pandemic that, "COVID'19 has greatly impacted young girls as they are at the higher risk of discontinuation of education, which will eventually lead towards having more cases of child marriages".
Fsahat Ul-Hassan – Chief Executive Officer, Youth Advocacy Network spoke briefly of global impacts and hold forth to "The pandemic has drastically impacted the day-to-day life, especially vulnerable population such as young people, women and people with disabilities has been effected the most both mentally and physically."
Chonghee C. Hwang – Senior Manager Asia, Family Planning 2020 concentrated on SRHR and make a conversation about it by expressing: "We need to proactively address SRHR services, and reach out more women and girls, and engage young people in COVID response."
Dr. Bakhtior Kadirov – Deputy Representative UNFPA stated the delicacy of the matter and claimed that "The vulnerable population needs SRH services more because poverty is the driver of child marriages. The CPR is already low in Pakistan and the consequences are more severe than we think."
Asim Nawaz Abbassi representative of National Youth Alliance FP-SRH and Director 'The Dayspring Media' weighed media in relation to SRHR by saying that, "The role of media is very important to start the discussion about SRHR services and media should start addressing the population issues through all the available platforms and should use the peak hours in conveying solutions these issues."
Christine Power – Policy Advisor, Population Reference Bureau proceeded the session by voicing that, "PRB has always worked for capacity building of young people, and gave them lead and ownership because we believe that young people are the real change makers and they should have capacity to bring change."
Mohsin Baig – President, Rahnuma Youth Network added that "Mental health issues of young people during this pandemic should be addressed and there should be Youth friendly health spaces where young people can discuss their issues."
Robin Smeets – Youth Rights and Engagement Coordinator, Dance4Life came out with a frame approach by conveying that, "We are going to build an online academy for interactive spaces to talk about struggles during COVID-19. We must look for opportunities to engage young people virtually because we are not sure when these lockdowns will get over and we will get back to the normal"Hamyl Anjum – Governing Board Member, Youth Advocacy Network said that outline and publicize that, "Even where FP Aid is readily available, uptake and uses are limited by lack of information, cultural acceptance, resistance from male partners and affordability."
Dr. Naba Khan – Country Coordinator, IYAFP pointed out that, "Discrimination starts when a girl child gets deprived by the right to education. We need to talk about such issues and should address them to the policy levels. She also shared about her previous work related to young girls' and women health".
Speakers also congratulated Youth Advocacy Network (YAN) and acknowledged their work for the meaningful youth participation and capacity building of young people. They also accredited that YAN has actually sow the seed of bringing the E-Conferences and for not stepping back due to COVID-19.