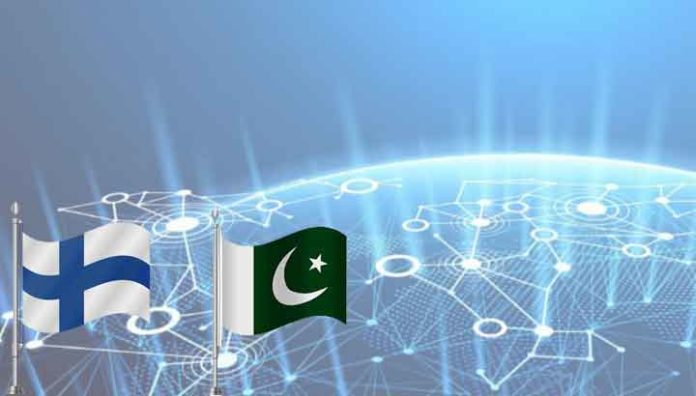 In a bid to prepare Pakistani youth for 4th industrial revolution, the Government of Pakistan and Finland have signed a memorandum of understanding (MoU) to train one million students on disruptive technologies.  The agreement was signed by the Federal Minister for Planning, Development and Special Initiative Asad Umar and officials from the Government of Finland in a meeting held recently.
This is the first Mass Information Technology (IT) Education Program in collaboration with the Finland government.  It would be managed by the Kajaani University of Applied Sciences, Finland, Allied ICT Finland and Virtual University (VU) of Pakistan and a local partner, Integration Xperts (IX), will provide technical expertise.
Former minister for information technology and telecommunication Dr Khalid Maqbool Siddiqui was also present on the occasion, accompanied by senior officials of the Ministry of IT and Telecommunication, Kajaani University CEO Matti Saren, Rector VU Naeem Tariq and other officials.
Siddiqui thanked the Finland government for their support. "This initiative reflects the Pakistan government's commitment to enriching the economy with an additional qualified workforce of one million youngsters educated on European professional standards to learn special skill sets. It would enable them to capitalize on the latest trends evolving in IT. With their globally recognized certifications, the students would strengthen Pakistan's IT industry by nurturing a wide range of technology startups."
"Pakistan will gain a competitive advantage in the global freelance work-space, to become an attractive destination for international companies searching for qualified technology experts."
President and CEO of the Kajaani University, Matti Saren, said that the Economist Intelligence report had declared Finland as the best countries in the world for future skills education while the Program for International Student Assessment also ranked Finland as the best higher education and training systems in the world.
Since last year, the Vendor Junction and Integration Xperts had been exploring ways to access the highest quality of mass education, technologies and ideas.  By following the proven system of Finland, millions of Pakistanis would become experts in the global business environment.  European enterprises were also being engaged to identify investment opportunities.
Director of International Education Cooperation, Kajaani University, Anas Al Natsheh said resourceful international collaborations and digital technologies are enabling access to quality education across the globe, nurture innovations, new ideas and products.
From advanced robotics to artificial intelligence, these are the few examples of the most disruptive technologies in the world. Artificial Intelligence, Internet of Things (IoT), Space Colonization, 3D Printing, Medical Innovations, High-Speed Travel, Robotics, Blockchain Technology etc.