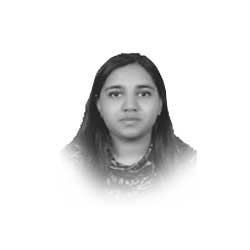 By: Talitha Joseph James
After the murder of French School teacher, Samuel Paty for allegedly showing cartoons of Prophet Muhammad (PBUH) in one of his classes. It had hurt the sentiments of Muslims. Recently, a tweet of Pakistan's Minister for Human Rights, Shireen Mazari raged a fire in international politics when she compared the treatment and sufferings of Muslims in France with the Jews by Nazi Germany.
Shireen Mazari's tweet said, "Macron is doing what the Nazis did to the Jews- Muslim children will get ID number (other children won't) just as Jews were forced to wear the yellow star on their clothing for identification." But, this tweet was soon deleted after the French Embassy in Pakistan clarified this story with an article as proof that the ID numbers would be given to every child and issued a statement against Mazari's tweet that "These despicable words are blatant lies, loaded with an ideology of hatred and violence. Such slanderous comments are disgraceful at such levels of responsibility. We reject them strongly."
Pakistan's Prime Minister Imran Khan also criticized French President Emmanuel Macron for encouraging Islamophobia by attacking Islam, Protests by Tehreek-e-Labaik Pakistan were done last week in response to the incident of Samuel Paty. Pakistan's Parliament also passed a unanimous resolution to call back its diplomatic mission from France, and French products were also boycotted.
Even though the leaders of many countries condemned the violence and offered condolences to France but violence in the name of religion is not the solution, it would ultimately lead to more tensions among states. What we need to understand is that violence has no religion so connecting it to religion is truly baseless and Islamophobia can only be ended if we put religion aside and live our lives peacefully in interfaith harmony.
The writer is a student of Fatima Jinnah Women University, Rawalpindi. She can be reached at [email protected]