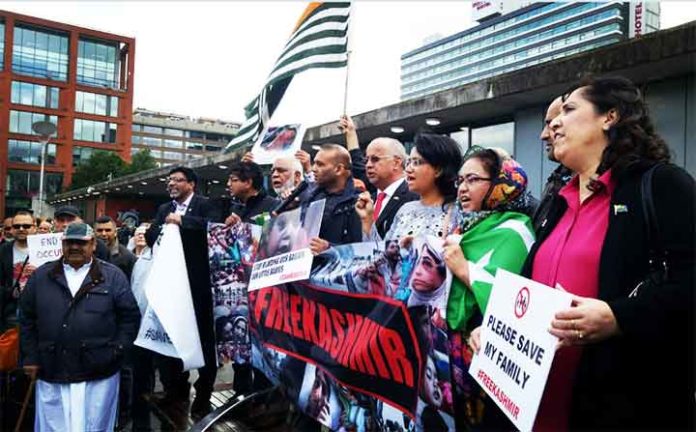 By: Naveed Khan 
MANCHESTER: On the Appeal of Free Kashmir Oldham Organization, a grand demonstration was held in Piccadilly Garden Manchester on Sunday from 2pm to 4pm to express solidarity with Kashmiris in which women, children, the elderly, Muslims and Non-Muslims participated in large numbers. Local communities of Bolton,Oldham,Rochdale and Manchester gathered in large numbers at Manchester Town Center with national flags and flags of Kashmir. Children and women were carrying various banners that contained messages on Indian brutality, inhuman curfew, torture of Kashmiris including children and women,their killings,the Modi government's genocidal agenda and illegal occupation of occupied Kashmir.Addressing the participants of the protest,Councilor Yasmin Qureshi said the plan to change Kashmir's demography was a war crime under the Fourth Geneva Convention.
British Member of Parliament Afzal Khan said that the Overseas Pakistanis have always shown unprecedented solidarity with their Kashmiri brothers and sisters, an example of which is the today's grand demonstration in Manchester and it is the time to stand together in the same enthusiasm with our kashmiri brothers and sisters.For last 27 days, Indian occupied Kashmir is completely disconnected from the outside world,Innocent Kashmiris are locked in their own homes. Mobile phones,newspapers and the Internet are shut down so they can not be connected to the outside world by any means.
Addressing the participants of the demonstration,Qadria Jilania Islamic Centre Manchester addressee Allama Ahmed Waqar Bag said that the world is unaware of the atrocities committed by millions of Indian soldiers stationed in occupied Kashmir, after the abolition of Article 35A and 370, a dangerous prison has been formed and the Indian army has been given a free hand to kill Kashmiris,ordering that wherever two people appear they can be shot and that is happening under the shadow of a country that claims to be the largest democracy in the world.India in fact is the world's largest imperialist country in which the existence of Jammu and Kashmir was divided by the dictatorship.Allama Ahmed Waqar Bag further said that by making 1 billion kashmiri prisoners in Kashmir, India has transformed the Valley of Kashmir into a Holocaust where millions of Muslims are deprived of their basic human and Democratic rights and India has begun to slaughter them like animals.
The participants of the demonstration include Chairman kashmir self-determination movement Raja Najabat,Secretary Amjad Hussain Mughal,Former European Parliament Member Wajid Khan,Safdar Baloch,Shahzad Mirza of Urdu Global,Muqaddasa Bano, Ms Razia Chaudhry,Asian Sound Radio Manchester Presenter Rubina Khan, councilor Rab nawaz, Pakistan Tehreek-e-Insaf Munawar Niazi and Social Activist Iqbal Siddiqui.