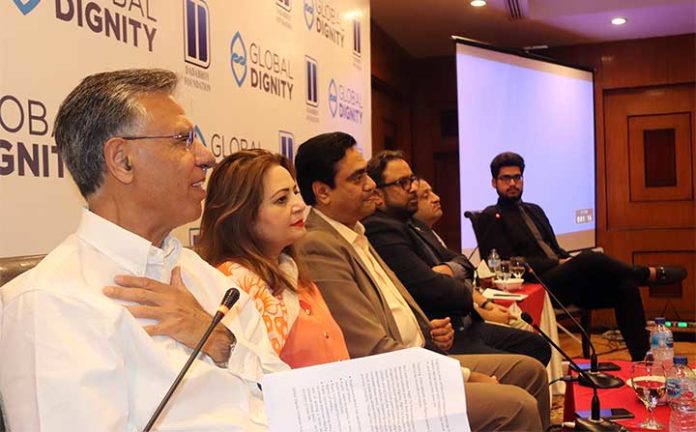 By: Atle Hetland
ISLAMABAD: The Global Dignity Day was celebrated on the third Wednesday of October, according to its rules, and the day after, on 17 October, the International Day for Eradication of Poverty was marked.  
In Islamabad, a Global Dignity Day event was organized a few days in advance of the actual day. A strong team of speakers sat on stage: Irfan Wahab Khan, Telenor Pakistan's CEO and leader of the company's Emerging Asia Cluster; Right to Play country representative, Iqbal Jatoi, whose chair is Olympic Sports Winner Johan Olav Koss, Norway; Amir Jahangir, the Mishal Pakistan CEO, who is the Global Dignity's coordinator in Pakistan; and other speakers. True, there were many with Norwegian relations at the event, and a Norwegian speaker joked about that he was perhaps invited just because of his Norwegian nationality. He added that it was indeed a worthwhile and educational event.
A message by the main initiator of the Global Dignity Day, Norwegian Crown Prince Haakon, was screened at the opening. He was one of three persons who in 2006 founded the organization; the others were John Hope Bryant, an American poverty eradication activist, and Finnish philosophy professor Pekka Himanen. Crown Prince Haakon is now chairman for the work in Norway. Among other related things, he is also a goodwill ambassador of the United Nations Development Programme (UNDP) and thus an advocate for achieving the 17 UN Sustainable Development Goals, adopted in 2015, to be reached by 2030, given focus on the International Day for Eradication of Poverty.
As a Masters' degree holder in development studies from the London School of Economics and Political Science (LSE), studies at UCL-Berkeley and Oslo, and many fieldtrips to developing countries, Crown Prince Haakon knows well that there isn't much dignity for people living in poverty; greater equality and sharing of the world's wealth are required for dignity for all. Speeches about dignity can only be the first step, as was emphasized at the Global Dignity Day events in Pakistan and over 70 countries worldwide where the day was observed, especially at schools and colleges.
The idea behind the Global Dignity initiative is to focus on how we can enhance our own dignity, as well as that of others, through the way we treat each other. We see it as a human right to be treated with dignity, respect and decency. We want to be treated as equals, not less and not more than others. In return, we must also treat everyone else with the same respect irrespective of creed and cradle, social status and other differences. Men and women must be treated equally; people with physical or other handicaps, people with different sexual orientations, people of other races, people with low level of formal education, and so on, must all be treated equally. When doing that, we become better ourselves; it enhances our self-respect which is a foundation for showing respect towards others.
"We should be able to say: I am not perfect, but as good as I can be. Since I respect myself the way I am, I also respect others the way they are", said one of the speakers at the Islamabad event. He added that he thought that young people today are more open-minded than many older people. "We must always try to do what we think is right and fair, even if it goes against old and outdated conventions and traditions. Young people everywhere know this", he said.
He recommended that participants Google 'Network for Human Dignity and Humiliation Studies'. This impressive network was founded by Professor Evelin Gerda Lindner, a German-Polish psychologist who moved to Norway after WWII and teaches at the University of Oslo. A virtual Human Dignity University has also been established.