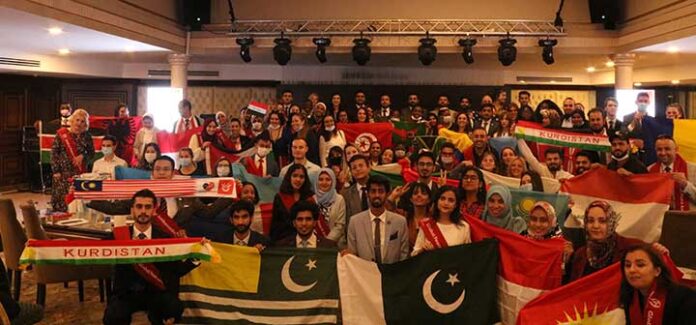 By: News Desk
ISTANBUL: To discuss the socio-economic problems and innovative solutions to problems amid COVID-19, three days Global Peace Summit Turkey 2020 was organized in Turkey. Organized by Global Peace Chain, the virtual event was attended by people from 70 countries including high official's diplomats participated and attended the summit and shared their thoughts and vision over ongoing global crisis.
This global gathering aimed to unite youth and address economic crisis created by covid-19 and to provide technical support to the community based projects, establishing more innovative projects covering up the current issues including e-commerce and digitalization to fill the unemployment gap. Young leaders also presented their projects and ideas regarding Coronavirus and its majors to control, that how utilizing the function of online training, seminars and awareness campaigns which would be possible to make people involved in small business and entrepreneurship of their own could control the rising economic problems, worldwide.
The panelists from Britain, Kenya, Afghanistan, Pakistan, Ukraine, Palestine, Yemen, France, Kosovo, Colombia and Bangladesh spoke about the effects of the coronavirus and its measures of prevention, said that the worldwide hit of coronavirus has made the world's progress stagnant result in increasing poverty, domestic violence, political instability and unemployment. Also Millions of people suffer from an economic crisis and millions of children got out of school.
Executive Director Global Peace Chain Kamran Zafar said, the global crises calls for action by U.N and developed countries. He also added, United Nations must bring all possible efforts and resources to implement its resolution on Azerbaijan-Armenia conflict, Palestine and Kashmir to make life easy and normal on the inhabitants of the country who are suffering decade's old violence and devastation.                     
Director Programs Global Peace Chain Mohammad Ahmad said that recently France attempted to disgrace Holy Prophet's (peace be upon him) honour and made insulting sketches of the rites and hurt the feelings of over 1.8 Billion Muslims and we highly condemn this kind of actions being taken on the name of freedom of speech.
Islam spread the message of love and peace, He warned that Europe and west need to understand that Muslim Believes in the last Holy Prophet (peace be upon him) and keep Holy Prophet (peace be upon him) dear to their heart more than their lives, and Muslims will not tolerate any attack on the honor of Holy Prophet (peace be upon him).
Diplomats from Afghanistan H.E Mr.Zekria Barakzai, Qatar H.E Mr.Jassim Bin Abdulla, Bosnia,Tunisia H.E Mr. Hammadi Louati and Yemen H.E Ms.Nadya Al-Akhram Ministry of Youth and Sports for Women's Affairs also participated in Global Peace Chain and appreciated the efforts and said that the holding of international conferences like these helps to mobilize our youth and benefits to find solutions to the problems faced by the world.
At the end of the conference, diplomats and young leaders who presented efficient models of their projects were awarded highest 'Peace Medal' by Director Kamran Zafar and Director Muhammad Ahmad of Global Peace Chain. In encouragement of the international delegates, certificates of appreciation were also awarded in encouragement and acknowledgement of their work in social sector.