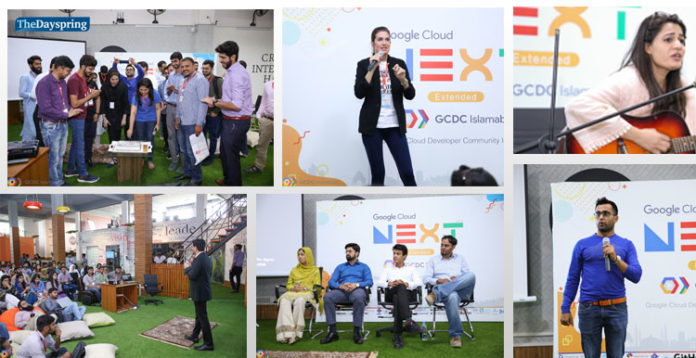 By: Kanwal Sultan
On the 15th of June 2019, Google Cloud Developer Community (GCDC) of Islamabad organised the first ever Google Cloud Next Extended 2019 event in Pakistan, supported by GitHub, TechJuice, The Dayspring, RedBuffer, Anzen, AIYIN, NUST ACM Chapter, Devenings, Developer Circles from Facebook, Startup Guide, ProPakistani etc. and judging by its success, it was worth the wait! Held at KNCT Hub in I-10/3, from 10:00 A.M to 6:00 P.M. The attendees largely comprised of recent graduates and undergraduate students, including various innovator and lead thinkers, who were thrilled to be attending this flagship event.
GCDC Islamabad is a local community that brings together developers who share a keen interest in resources and technology from Google Developers. With an aim to connect and spread knowledge, GCDC often organises workshops and various events that allow the community to enhance their skills, and Google Cloud Next Extended 2019 was no exception. With the focus this year on Artificial Intelligence, here's a rundown of all that happened.
True to its goal of equipping the community with skills, the event kicked off with 2 hands-on workshops. The first of which was a Study Jam on Machine Learning APIs on Google Cloud Platform, led by Codistan members Sumbal Malik, a multi-talented QA engineer and Beenish Khan, an experienced software engineer. They explained the basics of cloud computing and led the audience through the process of creating an object detection application using tensor flow.
Meanwhile in a parallel event, a hands-on TensorFlow2.0 workshop was conducted by Imran us Salam, Scholar of AI at PI School, Rome & Co – Manager, GCDC Islamabad and Aqsa Kausar, Machine Learning Engineer at Redbuffer. They divided the workshop in two ways, a brief dive into Machine Learning and then a hands-on lab with TensorFlow 2.0.
Once the audience had put on their thinking caps, the Manager of GCDC Islamabad and Women Techmakers Ambassador, Irum Zahra took to the stage where her energy and words set the tone for the event to be an interactive experience which will be equal parts fun and learning. She started with a little intro on GCDC Islamabad and introduced the diligent members of the team, including the ambassadors, who had made the event possible. This was followed by highlights and keynotes on Google
Cloud Next and the amazing products and innovations Google will be bringing about this year.
In a culture which is extensively immersed in technology, one often tends to forget just how important a resource technology is. Thus, to highlight the importance of technology for a prosperous Pakistan, Cynthia Ritchie, a well-known writer, Director and World Traveller, who has spent the last 10 years extensively travelling Pakistan, was invited and within minutes she had the audience charmed with her wittiness and experiences. She stressed on the role of technology as a language that unites people and its significance as the best tool the youth has for re-shaping the future of Pakistan. Furthermore, she expressed her dislike for the word "resilient" used to
define the Pakistani nation and instead urged the youth to become "anti- fragile" as these terms mark the difference between surviving and thriving. She showcased the trailer for her upcoming documentary called "Emerging Pakistan" and finished her talk with a question answer session that enabled a fruitful exchange of ideas.
Ms. Ritchie's uplifting talk was succeeded by a cool product demonstration by Mr. Ershian Anwar, CEO of Anzen, who served as a source of inspiration for all students and a shining example of solving an everyday problem using technology and turning it into an entrepreneurial venture. The Anzen device is the only of its kind in Pakistan that allows users to control their home electronics with a mere touch of a button on your smartphone. The demo booth installed at the event had the audience captivated
by the product's affordable rate, small size, and functionality. Much to the delight of the attendees, a 10% discount was offered for on spot registration for the Anzen device.
This was followed by a lunch and networking session which allowed the audience to conduct one on one conversations with their favourite speakers.
Following the networking session, Emad Ahsan, Co-founder of Traverous & Google Developer expert, jumpstarted the learning train again as he explained the working of Anthos and how it can help accelerate application development.
Up next, Jawad Sadiq, Co-founder Devenings, enthralled the audience by explaining how Firebase provided a premium customer experience, minimised costs and was time efficient (faster than ruby on rails). Additionally, by taking the audience through the steps he ensured that everyone formed a basic understanding of how to operate
Firebase.
"The future of android is Kotlin first" were the words that captured the attention of the audience as Atiq ur Rehman, Android Developer, explained what Kotlin was and highlighted its flexibility, conciseness, and usability on multiple platforms. Given the need to adapt to the times, he suggested that Kotlin should be adopted as it will make Java obsolete in the near future and provided a list of websites that provide useful Kotlin tutorials.
Cloud Computing has been making an impact for the past couple of years as its integration with different devices and applications has profoundly risen the level of sophistication current devices have. To further emphasize on the future of cloud computing a panel discussion was held, moderated by none other than the Co- Manager of GCDC Islamabad, Imran us Salam. Lead thinkers from different companies including Hassan Jalil & Uridah Sami from Red Buffer, Mohsin Ali from Neuron Solutions and Atif Sajjad from LMKT were invited as panellists, they provided insightful answers to questions related to their area of expertise and shed light on the increasing impact of cloud computing on technology. The topics discussed included Dialogflow, benefits of Firebase, comparison of Google Cloud with Microsoft Azure and AWS.
All good things must come to an end but Google Cloud Next Extended 2019 ensured that the end was just as fun filled as the beginning. Following the hi-tea, Sumbal Malik (instructor at the Machine Learning API workshop earlier) entertained the audience with her guitar skills and soon had everyone singing along. The overall event concluded with a fabulous cake cutting ceremony, courtesy of 401 Bakers. Moreover, the provision of cool Google swags to the audience marked a sweet farewell to the informative yet fun event.
Google Cloud Next Extended 2019 was truly one of a kind as it perfectly walked the line between informative and engaging. With an event that imparted so much handson knowledge yet never lost touch with its fun side, the only question on everyone's mind's as they left was "When is the next one?"