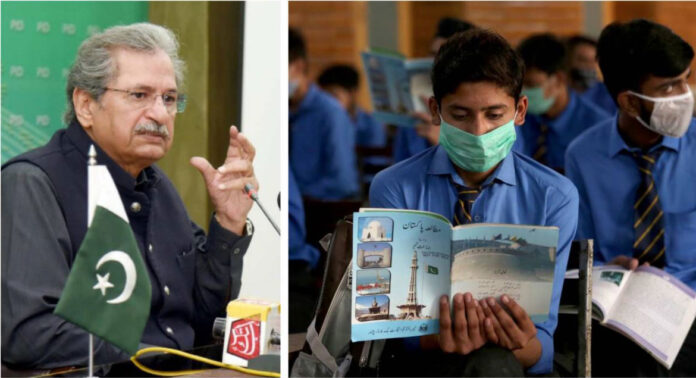 TD WEB DESK
ISLAMABAD: All the students of classes X and XII are being promoted to the next grades because of the prevailing coronavirus situation as cases raised to around 90,000.
The decision to promote students was taken during an Inter-Provincial Education Ministers Conference (IPEMC), chaired by Federal Minister Shafqat Mahmood. It was noted that because of the pandemic the re-examinations of the failing students were no longer possible in near future.
The final exams for the students were held between May and July. "The meeting decided that due to the coronavirus situation, immediate re-examinations will not be possible and the students who failed would be given a discounted 33 marks," said an announcement.
The meeting also decided that Matric and Intermediate exams would be conducted twice a year and the second examinations would not be called supplementary exams. Sources said that the next Matric exams would be conducted in May-June and the new academic year would begin in August.
Taking to Twitter, Shafqat said that O and A level exams will be conducted as per schedule, adding that the universities will make their own timetable for exams.
The announcement comes as the authorities started the coronavirus vaccination of 15-year-olds from Monday. "Teens below the age of 18 will have to produce their B-form for registration," Parliamentary Secretary for Health Dr Nausheen Hamid said.
Meanwhile, the NCOC said in its daily update that the national tally of active Covid-19 cases came down to 90,545 on Monday, as 2,988 more people tested positive for the deadly virus while 3,391 people made full recovery during the past 24 hours. The national positivity ratio was 5.62%.
It was the first time since July 23, the single-day tally of fresh Covid cases fell below the 3,000 level. Among the active cases, the NCOC said 5,425 patients were admitted to various Covid-dedicated health facilities across the country, including 5,066 in critical condition.
The forum also said that 67 patients, 62 of whom were under treatment in hospitals, including 24 on ventilators, died during the past 24 hours, raising the nationwide death toll from the disease to 26,787. Most of the deaths, 26, occurred in Sindh followed by 20 in Khyber-Pakhtunkhwa (K-P).
As of Monday, the national caseload of the infectious disease since it first emerged in the country in February 2020 rose to 1,207,508, of whom 1,090,176 people have fully recovered which depicted a significant recovery ratio of more than 90%.