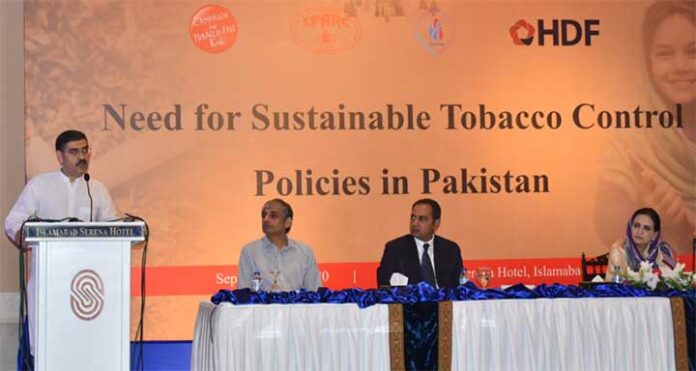 By: Our Correspondent
ISLAMABAD: A seminar was held in Islamabad to spread awareness about the losses in revenue from tobacco industry and to ask government to have sustainable tobacco control policies so that burden on health sector can be minimized and youth can be protected from the hazardous effects of tobacco use.
Dr. Nausheen Hamid, Parliamentary Secretary, Ministry of National Health Services Regulations and Coordination (NHSR & C), shared alarming facts related to consequences of tobacco consumption in Pakistan. Cigarette smoking is one of the major risk factors for lung cancer and it is linked to about 80% of deaths caused by lung cancer. According to a 2017 World Health Organisation Report, in Pakistan over 163,000 people in 2017 die due to tobacco use.
She added that this health burden is particularly affecting the young population. About 1200 children between the ages of 6 and 15 start smoking in Pakistan every day. She mentioned that government of Pakistan is willing to work with tobacco control advocates for a sustainable tobacco control policy to reduce huge health burden caused by tobacco use.
Anwaar-ul-Haq Kakar, Member, Senate of Pakistan, said that tobacco should be declared as addictive drug. Pakistan's present as well as future depends on the survival, protection and promotion of rights, and development of its children and we should work together to fight for anti tobacco cause.
Addressing to participants, Malik Imran Ahmad, Country head Campaign for Tobacco Free Kids (CTFK) said tobacco control policy must go beyond the scope of health aspect in order to prove sustainability. He shared that an average, in Pakistan, smokers spend 10% of their average monthly income on cigarettes. 25.3% of households in the lowest income group smoke cigarettes compared to 16.2% of households in the highest income group. When people spend their income on tobacco products, they are left with less money available for essential services such as child nutrition and education. Raising tobacco taxes is a proven policy to help reduce tobacco consumption as per the WHO's recommendations. He added World Bank Report says that Pakistan should annually increase the excise rates by at least 30% on cigarettes to ensure the reduction in cigarette consumption and the growth of tobacco revenue. Therefore, he urged the government to adopt a National Tobacco Control Policy, that ensures, reduction is tobacco consumption, improved public health and guarantee child education and nutrition.
He further added, increased taxation would discourage people from spending their valuable income on tobacco products, while helping them save money for essential services like child nutrition and education. He shared that the level of under-reporting of cigarette production in Pakistan has significant negative implications for government tax revenue. He also added that the volume of illicit trade is very low as compared to the claims made by the tobacco industry.
Samra Mazhar, Deputy Director (Programs) Ministry NHSR & C, briefed the attendees about the tobacco control policies of Pakistan. She mentioned quoting Pakistan Health Research Council that tobacco consumption costs the country PKR 192 billion health burden due to tobacco-related diseases and lost productivity whereas in comparison, the revenue generated from tobacco taxation is only PKR. 115 billion.
Muhammad Tarique, Member IR Policy, FBR shared that the large fiscal imbalances in Pakistan require greater tax revenues. Tobacco taxation can positively contribute to government revenues. FBR played a key role in removal of third tier which was in the line with WHO requirements agreed by Pakistan. He added that FBR's focus is not only to generate revenues but also to reduce consumption of tobacco and any government policy in this regard will be highly appreciated.
Highlighting the role of civil society in tobacco control, Mr. Sajjad Ahmed Cheema, Executive Director, SPARC, said that the biggest role played by tobacco control activists is the acceptance of tobacco consumption as a human rights issue. Through relentless advocacy, civil society has raised awareness that tobacco consumption is not only a health issue. It has serious repercussions on poverty and economic stability, child development, child education, child labour and in many cases; it becomes a child protection issue as well.
Afshan Tehseen Bajwa, Chairperson National Commission of the Rights of the Child (NCRC) shared that according to National Nutrition Survey 2018 Pakistan has the second-highest rate of malnutrition in the region, with 18 percent of children under 5 suffering from acute malnutrition, around 40 percent of the children in the same age group are stunted and 29 percent are underweight. Tobacco consumption further adds to the health burden. Tobacco companies are deliberately using "deadly" tactics to target children and get them hooked on their products. She said tobacco taxes must be increased while laws on tobacco advertisements must be thoroughly implemented.
In concluding remarks Mr. Azhar Saleem, CEO Human Development Foundation, said that tobacco industry has created hurdles in implementation of policies related to taxation, graphic health warnings, advertising and promotion, and smoke-free places. The government needs to remain steadfast to overcome any challenges thrown by big tobacco industry in order to safeguard Pakistani children from harms of tobacco.