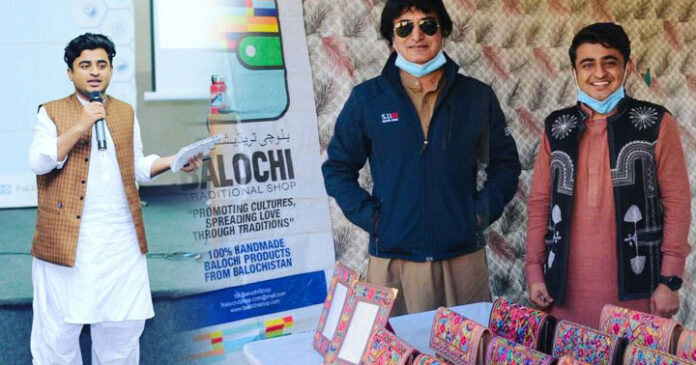 By: Maleeha Irfan
The Balochistan province of Pakistan is full of great talented youth who have proved their talents and visions to the world. Among those talented gems is Imran Khan Hara.
Imran Khan Hara belongs to the Sibi district, the hottest region of Pakistan. He is a young entrepreneur in the sector of e-commerce. He is the founder and CEO of an online shop called Balochi Traditional Shop-BTS offering handmade; wallets, bags, keychains and other stuff. This online shop is a brand of hand-embroidered products called (Kundi). Kundi is an embroidered thread work with unique designs and colours created in the Tehsil Lahri of Sibi District. The business was initially started by creating a page on Facebook. The page became so popular that its products started getting attraction from across the border.
Apart from his business Hara also works with different welfare initiatives and is making contributions to culture, environment and tourism.
Born in the deprived family of Sibi in the Balochistan province of Pakistan, Imran khan Hara has a long journey of struggle. He had to work from an early age to meet the financial needs of his family. He sold rice (biryani), ran a shop and worked in medical stores. He matriculated from Govt; boys high school railway colony Sibi. He did intermediate from Govt boys degree college Sibi and later obtained BSc degree in Geography from the University of Balochistan.
The Handicrafts of Balochistan have drawn admiration and popularity throughout the world. These Handicrafts products are famous for the delicacy of their unique designs and attractive colours. These art pieces are created mostly by females to earn their livelihood.
Although Balochistan is rich in traditional handicrafts but craftsmen did not have any platform to promote their handicrafts. The valuable products were not even reached to the local markets properly. The lack of awareness and acknowledgment was fading their artwork each passing day. Balochi Traditional Shop-BTS took a stand to restore their artwork and promote the products not only in Pakistan but internationally too. The skilled people were given a proper platform to sell their products without any hassle and were guided to grow as per their capacity. The quality of handmade products was collected from skilled artisans and sold online. It provided them employment opportunities and make them able to sell their handicrafts goods to a high-end market.
Imran khan Hara is an inspiration to the youngsters of Balochistan. For those who want to pursue their goals and progress by bringing positive change in society, Hara is setting a role model for others. He proved that with skills, talent and hard work one can
overcome all difficulties and bring an improvement in surroundings.