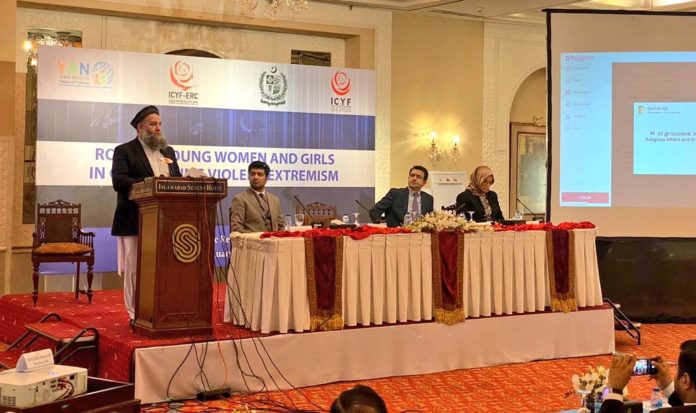 ISLAMABAD: Ministry of Religious Affairs and Interfaith Harmony, Euroasian regional centre of Islamic Cooperation Youth Forum (ICYF) and Youth Advocacy Network (YAN) jointly organized international conference titled "Role of Young Women and Girls in Countering Violence Extremism".
Federal Minister for Religious Affairs & Interfaith Harmony, Sahibzada Noor-ul-Haq Qadri while chairing the conference urged country's youth and media to make collaborated efforts for countering the menace of violent extremism in the country. He also said that the government supports positive activities of youth as the county had already passed through a very difficult phase of terrorism and such events will definitely help to portray a true and positive image of Pakistan and to eradicate extremism from the country.
The conference was aimed at developing a narrative around meaningful engagement of young women and girls in countering violent extremism.
The conference was attended by delegates of member countries of ICYF-ERC and diverse youth from within Pakistan.
Board member of ICYF-ERC from Pakistan, Fsahat-ul-Hassan is his welcome address thanked ICYF-ERC for organising this event in Pakistan. While appreciating the support of the ministry of the Religious Affairs of Pakistan, he thanked Federal Minister for Religious Affairs & Interfaith Harmony, Sahibzada Noor-ul-Haq Qadri for organizing this event in Pakistan.
Elmaddin Mehdiyev (Director General of ICYF-ERC) said that this was the first event of ICYF in Pakistan and he was pleased to interact with the young people of Pakistan. He also believes that youth including young women and girls are extremely pertinent to combat violent extremism across the globe.
Dr Fadila Grine (Senior Advisor to the President of ICYF) while addressing said that Muslim women around the world are capable enough to speak for their rights. Emphasising on the power of social media she added that Muslim youth can play an effective role to fight against islamophobia.
APS attack survivor and activist for Peace & Education, Ahmad Nawaz also spoke through the video link from the United Kingdom. "If we want young girls & boys to flourish, we mustn't speak on behalf of them, instead empower & encourage them to come forward & take leading roles", he said.