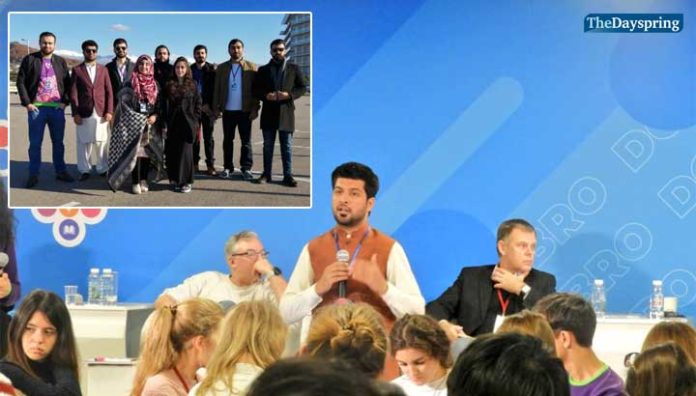 By: Our Correspondent 
SOCHI: Around 14,000 delegates from Russia and 1000 delegates from rest of the world including Pakistan, celebrated the International Volunteers Day with the President of Russia H.E Vladimir Putin. Pakistani delegation comprised of youth leaders also participated in different activities and discussions during the International Volunteer Forum 2019 that held in Sochi, Russia. The aim of the forum, that happens every year, is to highlight the role of volunteers and motivate young people to play their due volunteer role to uplift the society.
Director Development The Dayspring and Founder CEO of Youth Advocacy Network, Fsahat Ul Hassan was invited as an expert speaker to facilitate the discussion for an Active international session on UN Sustainable Development Goals. Purpose of this session was to identify that how can volunteerism help in achieving SDGs, one of the current problems that volunteers and researchers of volunteerism face is synchronizing volunteerism development with the SDGs, which are the guidelines of each and every country. Volunteerism has to be brought up to light, to be regarded not only as a public-spirited work, but also as a crucial element of state and world development. This interactive session will include discussions in smaller groups as well as with all the experts including theoretical background and practical decisions.
Another Pakistani delegate Mr Umer Dil Khan won the I Care Challenge award.
Delegation from Pakistan shared the progressive image of Pakistan as well as highlighted the Kashmir issue. Young journalist Mr Shahab Ud Din arranged the stall on Indian Occupied Kashmir during the IVF.
Future Team Pakistan facilitated the selection process for the delegates. Hamza Khattak, Daniyal Hayat, Ahsan Durani, Ms Anitta, Ms Hira, Waleed Khan, Raja Haris, Ali Sarwar and others were also part of the Pakistani delegation.