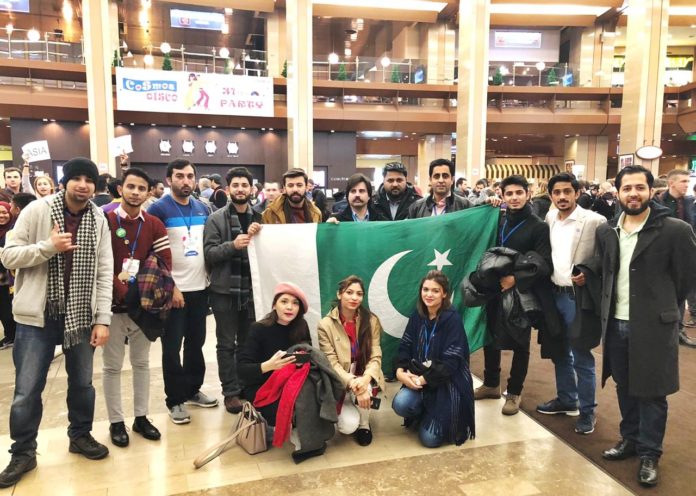 By: Sarmad Shahbaz
MOSCOW, 12, Dec 2018: More than 14,000 delegates from Russia and 500 delegates from all around the world celebrated the International Volunteers Day with the President of Russia H.E Vladimir Putin. This year's IVF ended with the "Best Volunteer Award" ceremony at Vystavka Dostizheniy Narodnogo Khozyaystva (VDNKh), which is a permanent general-purpose trade show and amusement park in Moscow, Russia.
The finest delegation from all around the world was paid tribute for their volunteer services in their respective fields. 15 delegates from Pakistan joined this year's IVF. These enthusiast Pakistanis including Alamgir Khan (MNA), Sarmad Shahbaz, Aqib Javed, Muhammad Taha, Ahmed Toor, Shahab ud Din Makhdoom, Madiha Neelam, Mamoona Khan, Umer Dil, Ibrahim Khan, Sohaib Tanveer, Hamzah Khattak, Rayyan Zahid, Marvi Baig and Muhammad Furqan raised the Pakistani Flag at IVF 2018.
Forum started on 2nd December, 2nd and 3rd day of the forum were comprised of workshops, sessions, and conferences to interact with the best young leaders. People who initiated their very own ventures were honored as speakers. The delegates took part in many fun-filled and intensive learning activities. These activities were designed to get a better picture of the current happenings across the world. The main idea of the IVF was to promote peace, harmony, and respect between the people of different background, cultures, and creeds.
The 4th and the last day of forum ended with a major performance to celebrate volunteerism all around the world. This amazing concert was accompanied by finest singers of Russia. Also, the President of Russia Mr. Vladimir Putin took part in the concert and acknowledged the efforts of youth for the development of mother earth. He appreciated every single delegate present and encouraged to promote volunteerism to build a better prosper future.
Four days long forum ended with big smiles and teary eyes. Delegates enjoyed the forum to its peak level and promised to contribute their efforts for the social causes to make this world a better place to live.