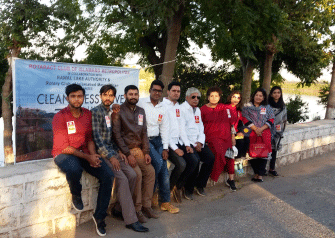 Keeping Freshwater Fresh;
Rotaract Club of Islamabad Metropolitan organizes cleanliness drive at Rawal Lake
By Maryum Ashfaq
ISLAMABAD, OCT 2018:Plastic waste on land and in water bodies is a globally recognized issue. It is a threat to marine and freshwater life. According to an estimate by IOPscience, about 8 million metric tons of plastic are thrown into the oceans annually. It has started to become a major health hazard and will continue to be if this problem is not taken seriously. No-plastic campaigns are being launched worldwide and it is time Pakistan got on-board as well.
In light of this, on 20th October, The Rotaract Club of the Islamabad Metropolitan in collaboration with Rotary Club of Islamabad Metropolitan and Rawal Lake Authority held a cleanliness drive at Rawal Lake, Islamabad. The purpose of the drive was to bring public attention towards the increasing amount of trash destroying the beauty of the public resort.
Rawal lake, which used to be one of the most visited and aesthetically pleasant picnic areas of Islamabad is now badly polluted by trash thrown there by the visiting public. The south bank of the lake is lined with trash that washes up ashore over time.
"The littering actually happens on the visiting sites which, overtime, is carried by the water current to the bank", said Miss. Tayyaba Gul, the advisor of RCIM. A large amount of this trash was observed to be plastic waste.
Rotaract Club urges the people to play their part and put an end to the littering of Rawal lake and other water bodies. This problem can only be eradicated if each and every individual contributes to the solution. Eliminating plastic based products completely from everyday life is an impractical approach, however, we must all make a conscious effort to avoid the use of single-use plastics and plastic water bottles. The drive was attended by Rotarian Tayyaba Gull, Miss Aliya, Rotaract President Asim Nawaz, Usman Salman, Saad, Mariyum, Wahib and others.