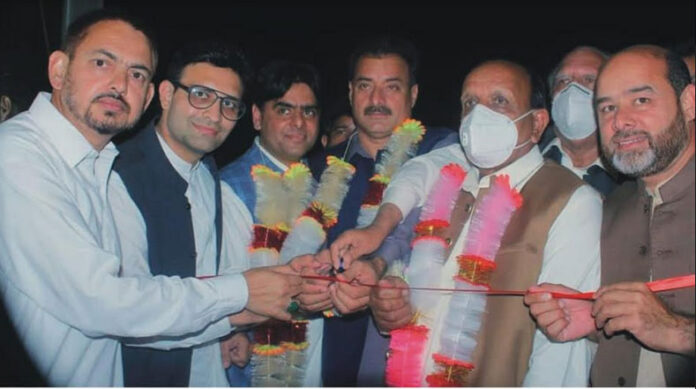 By: Junaid Qayyum
MURREE: PTI leader and member National Assembly constituency NA-57 Sadaqat Ali Abbasi said that about 800 small and big development projects are underway in NA 57 and out them 25 are in Tehsil Murree. The public will soon get good news regarding the establishment of Kohsar University and the appointment of its Vice Chancellor. He was speaking after the inauguration of a public secretariat in Murree. MPA PP-6 Major Latasob Satti was also present at the occasion.
He congratulated the newly appointed office bearers of PTI Murree, lauding the newly appointed president of PTI Murree, Sohail Irfan Abbasi he said that he and his team will spread the manifesto of PTI to every nuke and corner of the tehsil. MPA Latasob Satti also congratulated newly elected office bearers, he said that that we are fortunate that our leader is fearless, patriotic and has pain for the country and the nation. Development projects are underway in the constituency under the leadership of Sadaqat Ali Abbasi he said.
MPA Abida Raja, President PTI Murree Sohair Irfan Abbasi, Ex Nazim Haji Khalil Ahmed, Raja Haroon Mahfooz and others also addressed the gathering. The newly elected officials including PTI Vice President Baqir Abbasi, Omer Satti, Raja Zia-ur-Rehman Vice President, Additional General Secretary Saeed Abbasi, Raja Sohail Siraj, Ali Shams Abbasi, Ghulam Mustafa Abbasi, Mufti Arshad, Raja Sajid Abbasi, Ansar Mumtaz Abbasi were present on the occasion. Aziz-ur-Rehman Abbasi, Junaid Abbasi, Raja Shahid Mahmood, former Tehsil Nazim Murree Khurshid Abbasi, Raja Khurram Zaman and others also participated.