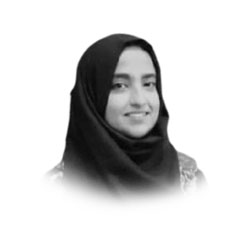 By: Zainab Mukhtar
The present world is passing through an age of unparalleled technological and scientific advancements bringing with its development and prosperity. One cannot be ignorant of the reality that we are residing in a fear-filled society. Individuals, as well as nations, live in perpetual fear of mass annihilation as a result of religious discordance and the cacophony of wars. Intolerance and extremism is a hideous calamity resulting in awful losses in lives resulting in loss of peace and harmony.
Keeping in view the current situation of Pakistan, where there is a great war among different sects and unacceptability towards other religions is a threat to national security as well.
Interfaith harmony generally means bringing peace and contentment endorsing positivity and hope among people. There is an interconnectedness among people of different religious doctrines at the individual and institutional level which endeavors a positive depiction in the polity of nations and is a very important phenomenon in a multi-religion society. Interfaith harmony emboldens the dictum to live and lets others live in tranquility. It is urged by all faiths by teaching the lesson of love, righteousness, compassion, consideration, harmony, and empathy. The gripe of interfaith harmony can be addressed by the use of these shared values.
At the ceremony of World Interfaith Harmony Week celebration back in 2017 at United Nations, Brahman Kumaris orated about the power that interfaith harmony possesses. According to her, tolerance advocates accepting and appreciating the differences of opinion in people. Its purpose is to broaden the vision of the people to accept different viewpoints. No one has the right to inquire about the religious sentiments of other people like no one has the right to inquire about your attitude and behavior towards your religion. This notion of tolerance and magnanimity will help people to accept who they are.
Interfaith harmony personifies the idea and belief to live and let others live. In a realm of amassed political and economic conflicts, nonviolent and peaceful living and coexistence among people having different religious views can substantiate the way for a peaceful and prosperous life.  Nourishing interfaith harmony can contribute to the development and successful progress of Pakistan. However, there are many issues and challenges in Pakistan that are stopping and minimizing the efforts of sharing and accepting diverse religious viewpoints. The human rights situation is perilous, especially for minorities. The situation is in sharp contrast to the moto the 'the land of peace' which is depleting the stories of religious pluralism. Keeping in view the current situation of Pakistan, where there is a great war among different sects and unacceptability towards other religions is a threat to national security as well. Keeping in view the situation, there is a dire need to spread the message of acceptance, positivity, and tolerance which is essential for a peaceful and developed nation so there is interfaith harmony among different religious entities, peace and tolerance is making society more inclusive and developed.
Amn aye ga, zaroor aye ga
(There will be peace, there will be peace)
For a peaceful Pakistan, it is imperative to tap into the deeper layers of the indigenous history of our region. Different plans to envisage religious harmony should be started for the development of the pluralistic society in Pakistan. Such a society should be developed where different people can live together in peace and exercise their religious practices. Recent events such as the Hazara event in Pakistan have provided the state with a robust rationale to pursue the amplification of religious tolerance. The historical background of Pakistan preaches and promotes peace, tolerance, and interfaith harmony. Strong efforts are required to inculcate these values back for peace and development outcomes.
Amn aye ga, zaroor aye ga
(There will be peace, there will be peace)
It is the need of the hour for the followers and devotees of all faiths to instrument the strategy for the promotion of tolerance, peace, patience, and interfaith harmony. Pakistan is a multi-religion state and also the neighbor of very important nations like Iran, India, Afghanistan, and China. It is the need of the hour to deal with the supporters of all religions impartially, fairly, and equally. As a multi-religion state, Pakistan cannot afford any prejudice and bigotry, unfairness, and inequality towards religious minorities. Minorities have their multidimensional importance. Therefore, the notion of peace and tolerance should be recognized by all the segments of people that the interfaith harmony will improve the religious matters of the public indisputably and will carry a communal, ethical, and financial revolution. It is immensely vital to accentuate the importance of interfaith harmony through educational institutions, media, workshops, and public gatherings in Pakistan.
Henceforth, interfaith harmony and peace together can make a great contribution in the resolution of the survival crisis. On the other hand, if interfaith harmony is seriously disturbed, it will be very difficult to handle the conflicts and crises and will be a great threat to the peace of any nation. For this peaceful coexistence of people of all religions is very important. In this time, we all need to act together with courage and determination and become the shining beacon of hope for endorsing peace and harmony.
Har sitam pr hamein awaaz uthana ho gi
(We must speak out against every oppression)
Amn ki shama hr ik simt jalana ho gi
(The light/ray of peace must be lit in every direction)
The writer is the 2nd winner of The Dayspring's 'Peace & Interfaith Harmony Writing Contest'. She can be reached at [email protected]
#AmanRang #TheDayspring