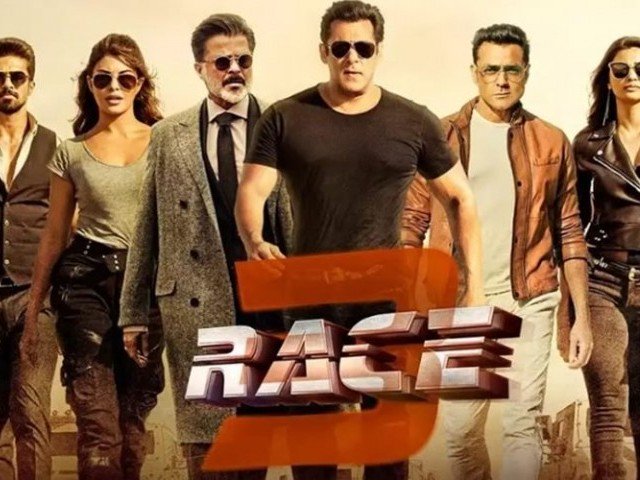 Bollywood film Race 3 managed to earn around Rs55 million in Pakistan. Local distributors are nonetheless satisfied with the revenue from local films currently playing in cinemas and do not see the success of Indian releases as a threat. Nine days after Eid, the business of Pakistani films is booming and local films are doing pretty well, even in the presence of Race 3 and Hollywood films like Oceans 8 and Jurassic Park: Fallen Kingdom.
According to distributors, Pakistani films such as 7 Din Mohabbat In have topped the charts ever since its release, with a revenue of about Rs90 million up to date. Wajood rounded up around Rs30 million while Azaadi have earned around Rs84 million
"7 Din Mohabbat In was the first choice at multiplexes while Azaadi and Wajood did well at circuit (single screen) cinemas. 7 Din Mohabbat In was also packed at single screens cinemas. The business went well because of Eid," Super Cinemas general manager Khorem Gultasab told The Express Tribune. "All movies attracted reasonable crowd, except Na Band Na Baraati."
"The local audience has started believing in our films and realised that we can also produce good ones," senior official of Distribution Club stated. "Those who still don't believe in Pakistani's film industry should really start watching our local films. After such a long time, we have managed to do so well and are earning a lot with films like 7 Din Mohabbat In."
The official added, "This is great for all stakeholders in the cinema industry. The first week for the local films was wonderful and had cinema halls buzzing with energy. I am hopeful that others who plan on investing in local cinemas have the confidence to do so, as we believe the situation will only get better."
It is pertinent to mention here that this year Eid witnessed a short ban on Indian films so as to protect the interests of local releases. This proved to be a good idea as people did indeed go out and watch the latter
"This Eid changed a lot of things for Pakistani cinema, with cinema houses being busier than ever. It seemed like Lollywood came alive once again," said Chaudhry Ejaz Kamran, chairman of the Pakistani Film Distribution Association
He continued, "We have struggled a lot for this outcome and are so happy that all our hard work has finally paid off. It is now up to producers and investors to take the lead and improve the industry. This year has proved that there is no shortage of talent within Pakistan."
Cinema houses are still abuzz, thanks in part to children's summer holidays, and are expected to be busier with the release of Lollywood film Shor Sharaba on June 29, 2018. Bollywood film Sanju will also be releasing on the same date.
Kamran also stated that he expects the same energy and competition on Eidul Azha, with Jawani Phir Nahi Ani 2 and Load Wedding slated for release then.