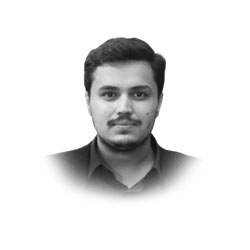 By: Muhammad Ali Alvi
Malala has been the talk of the town in Pakistan and the rest of the world since excerpts from her interview with British Vogue went viral on social media. Malala is a national hero and there is no doubt about it. She is the epitome of courage and bravery for girls in Pakistan who have big dreams in their hearts. The whole nation supported her and stood behind her when she was injured in an assassination attempt in 2012.
The young Nobel laureate has also made Pakistan proud on multiple platforms around the World. Her efforts for girls' education and empowerment have been phenomenal. There was so much to talk about from her interview but her comments on marriage went viral on social media. The young activist in her interview with Sirin Kale said, `I still don't understand why people have to get married. If you want to have a person in your life, why do you have to sign marriage papers, why can't it just be a partnership".This statement irked many in Pakistan as it was considered against the institution of marriage. It was widely criticized by conservatives but liberals defended her stance. However, some held her statement as an expression of freedom of speech. Those who hail her statement argue that it is a personal choice of a person to get married or to live with anyone without marriage. But, the problem is that the statement was given by a girl who is a Muslim, belongs to a conservative Pashtun family, and hails from Pakistan. Had the same statement been given by someone living in the West, it would not have made any difference or created a stir in society.
Malala's statement defies the institution of marriage and supports the concept of partnership with someone outside the marriage. It is against the basic values and principles of Islam. It is against the family system that has been an integral part of human society. Her statement is not only against the Islamic concept of marriage, it is against our customs, traditions, norms, and values. Moreover, Malala's statement is a religious wrong, Social wrong, and Cultural wrong. It is a religious wrong because according to the Quran, any partnership other than marriage is not permissible. It is a Social wrong because a family system is necessary to keep the society disciplined and organized. And, lastly, it is a cultural wrong as well because it penetrates the concept of the cultural custom of marriage which is common in all cultures in Pakistan.
On the contrary, it supports the diminishing and declining family system in the West. According to the data shared by OECD, the share of births outside of marriage has increased over time in the West. For example, in the United Kingdom, the ratio of births outside marriage increased from 8% in 1970 to 48% in 2018. Similarly, in the United States, the ratio increased from 10% in 1970 to 39% in 2018. Similarly, according to the data shared by Eurostat, the crude marriage rate has been in decline in Europe. For example, 8 per 1000 persons in 1964 to 4.3 per 1000 persons in 2019. A family system is the basic and the most important unit in Islam. Here, it is pertinent to mention that a family system has remained important to people not only in Islamic World and societies but also in other religions, cultures, and societies. For example, Plato, a Greek philosopher, was the most influential philosopher of his time. He was not only relevant in his time but his ideas and thoughts are important today as well. In his concept of state, he abolished the family system and supported communism in marriage. But despite his contributions to Philosophy, he is criticized for abolishing the family system. He is criticized for a weak system of state without the institution of marriage. Platos' student Aristotle who was also a brilliant philosopher while giving his idea of a state, rectified the mistake made by his master and maintained the family system. This shows the importance of a family in human life.
Malala may or may not have weighed her statement about marriage but she should always keep in mind that she is considered as the daughter of Pakistan and her every action should help raise the image of Pakistan and the people of Pakistan. However, her statement was twisted by foreign media to directly hit the People Of PakistanConsider the example of CNN-News 18, which published an article with the title "Why Get Married?: Malala's Question on Marriage Has Left Sexist Pakistanis in Agony". It shows the impact her statements can have on the day to day affairs. Those who support Malala's statement argued that the menaces like honor killings, gender biases, and child marriages are not doing any good to the country's image. So what impact does her view on marriage have on the country's image? And there is no point in raising fingers at Malala. Yes, these menaces are tainting Pakistan's image but we can not justify Malala's statement because of these evils. Wrongs do not make a rule. Here, it is important to mention that influential personalities like Malala can play their role in bringing the change as she has been doing through her activities for girls' education and empowerment.
Lastly, It is equally important to mention that her comments on the use of scarves and traditional dresses deserve a lot of praise. She not only made clear to the Western world that wearing a scarf for local dresses doesn't mean that a girl is suppressed but it is a sign of adherence to local culture, norms, and values.
The writer is a Chemical Engineer based in Lahore. He can be reached at [email protected]