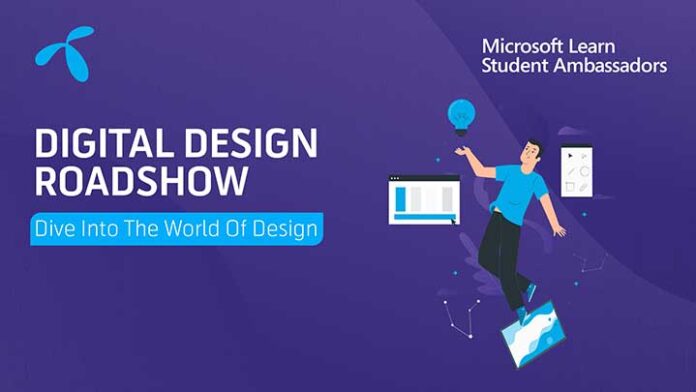 By: Ali Tariq
With the digital space becoming more prominent than ever before, Microsoft Learn Student Ambassadors – Islamabad and Telenor Pakistan recently collaborated to bring an exciting event 'Digital Design Roadshow' to impart the principles of digital design concepts like UX design, prototyping and design systems in a fun and engaging manner for all.
Microsoft Learn Student Ambassadors – Islamabad is Pakistan's city-wise chapter powered by Microsoft, focused on empowering the masses through the latest technological trends and much more. Telenor Pakistan is one of the largest telecom operators in the country, constantly striving to connect and innovate society with the newest technologies.
The event, held virtually from the 6th-15th of August, consisted of a series of cohesively curated interactive sessions and an eclectic panel discussion with designers from companies like KeepTruckin, Electronic Arts, IBM, Designist, The Brand Crew, MoZ Consulting and Microsoft which guided participants through the systematic stages of the design cycle and their applications.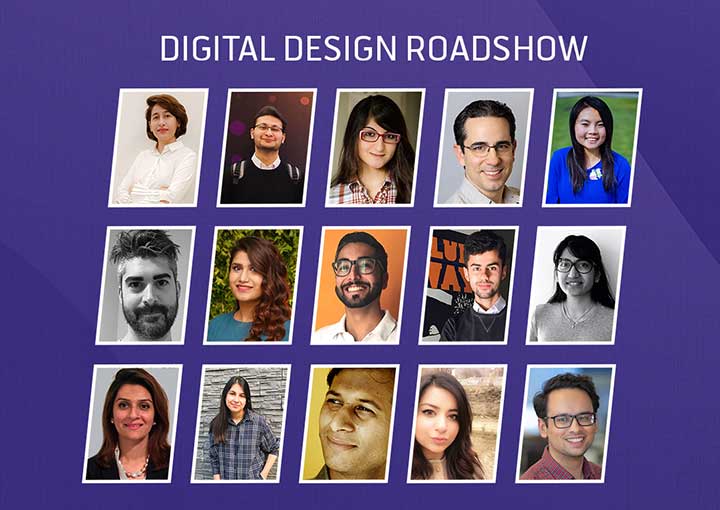 The event was formally commenced with opening remarks from Director Audience Evangelism and Global Program Manager for Microsoft Learn Student Ambassadors, Pablo Veramendi, to highlight the importance of learning and making an impact with your skills in a competitive environment. Other keynote speakers also included Madiha Pervez, Manager Corporate Innovation at Telenor Pakistan, who shared her valuable insights with the audience to help them bring their ideas and vision to fruition.
With the current relevancy of user design and testing systems in all sectors, these sessions, made possible by a myriad of mentors, speakers, partners and the use of Microsoft technologies, had a significant impact on the learning journeys of the young digital design enthusiasts.
The partners included the Pakistani Women in Computing (PWiC) Seattle, an initiative to empower Pakistani women towards STEM fields, the NUST Cybersecurity Club, a student club to educate and inform about cybersecurity trends, Aiyin, a company bringing communities together through the removal of visualization barriers, and UX Design in Pakistan (UXDP), a group promoting and bolstering user experience design opportunities and insights in the country.
Other partners also included Xgeeksters, an institution imparting its participants with a passion for the digital space and the newest technologies, the IEEE chapters from UET Taxila, Fatima Jinnah Women University, FAST Peshawar, COMSATS Wah Campus, COMSATS Abbottabad, and the Developer Student Clubs from UET Taxila and FAST Islamabad.
Students were guided through the various stages of digital design with six sessions that each focused on a different aspect of realizing a design problem systematically, with all of them tied together through an actual design project to help students not only learn these techniques but get a sense of their implementation as well.
The first session by Talal Athar, a UX design specialist at Telenor Pakistan, covered the initial processes of using data and research to define the design project's identity. Then, Grace Ling from Electronic Arts touched upon solving user challenges via design by visualizing these problems through task sketches and mockups, and Microsoft Learn Student Ambassador Shahzeb Kazmi helped bring these ideas to life in his session about prototyping. The learning experience continued with Creative Lead at Microsoft Learn Student Ambassadors – Islamabad Alina Tabish showing the use of different indispensable design tools, in an engaging, interactive session to build high-fidelity prototypes easily. Sana Bilal, Innovation Expert at Telenor Pakistan, highlighted the use of testing and feedback to refine conceived designs, Jon McClay, a senior product designer at Microsoft, showcased the Microsoft Fluent Design system with its toolkits, implementation, and philosophy to drive cohesive digital design.
The event concluded with a two hour live panel session consisting of design professionals and experts analyzing and discussing the design industry in Pakistan in terms of viability for future enthusiasts, and a closing note by Team Lead of Microsoft Learn Student Ambassadors – Islamabad and Senior Applied Scientist at Microsoft, Samia Khalid on the importance of how to use the skills learned to enable new possibilities.
With 1500+ participants empowered by the latest digital design technologies, the event overall was truly a successful showcase of harnessing the powers of creativity, collaboration and innovation to realize new horizons through design.