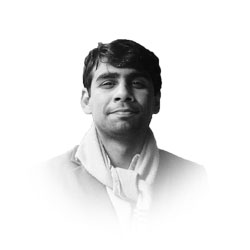 By: Wali Ejaz Nekokara
A recent incident on the Sialkot-Lahore motorway has exposed the insecurity of women in our country. A woman was traveling towards Gujranwala along with her children. She ran out of fuel near the Gujjarpura area and then she met with a horrible incident. Unidentified men raped her in the presence of her children and successfully escaped after snatching Rs100, 000. Similarly, a female-lawyer Irshad Nasreen came to district courts for attending a hearing on August 15, and on her way back home; three unidentified men abducted her and raped her for four days. These two recent cases and many other cases that could not get sufficient attention by media indicate towards the vulnerability of women. Kidnapping children for quenching monstrous thirst and abducting girls from minority communities is already a common practice in this country. Existing statistics portray a very grim picture of women's security. According to news, "despite several efforts like introducing Punjab Protection of Women against Violence Act (PPWVA), a massive surge in crime rate is noticed. In 2019 to the first 7 months of 2020, 3,885 rape cases, 1,361 child sexual abuse cases, 1,131 child abuse cases, 1,768 cases of violence against women, 1,2650 cases of kidnapping of women and 213 cases of honor killing were registered in Punjab". Furthermore, Sustainable Social Development Organization released a report titled "Tracking Crime against People – A Numerical Tale of Human (In) Security". This report provided information for three months (January, February, and March 2020). According to the information that came to light by the report, "200pc increase in the cases akin to the violence against women was witnessed in three months". The report further adds that after compiling data from national and provincial dailies on violence-related issues, a stark reality surfaced that 90pc of felonies were committed against the children and women. Another worth-mentioning thing is that "In 2019 Women, Peace and Security Index Pakistan ranked 164 out of 167 countries leaving behind Syria, Afghanistan, and Yemen. In South Asia, Pakistan ranked in worst nine countries on access to the mobile phone, financial inclusion, and discriminatory norms against women".
After the motorway incident, the reaction of people further paved way for condemnation. CCPO Lahore showed very irresponsible behavior by saying that the "victim of motorway incident should not have taken this route". Embarrassingly, some of the pseudo-Muslims lambasted the woman for traveling alone along with her children. They were of the view that "In Islam, a woman should not travel without a 'Mahram' or a family member'. One of the symbols of the influence of the clerical version of Islam is to quote Hadiths and Ayats without understanding the context and connotation. According to a prominent religious scholar Javaid Ahmad Ghamidi, "It has nothing to do with Shariat that Women should not travel without a family member but it was a precaution suggested by the Holy Prophet S.A.W considering the dangers of traveling alone in his era. In Prophet S.A.W's era people usually traveled in caravans and they had to take rest at night. The condition of the journey was different from that of today. So, Prophet advised that if women had to travel alone for 3 to 4 days which includes spending nights in camps then they should not travel alone without a family member to avoid false allegation". The religious card can't justify a crime. Secondly, those who know about religion don't have any need for this card. Our religious and political leadership must be ashamed of their silence against the insecurity of children and women. 
Now question arises, where are we heading and who is responsible? Our society is inexorably marching towards a terrible end. As far as, responsibility is concerned, I think that dying moral values, the poor justice system, dormant laws, inefficient government, and penetration of illiteracy and overwhelming impact of the clerical version of Islam are the guiding principles in these nefarious activities. Another question is what is a way out? First of all, we have to decide whether we should imitate the west in making laws or we should make laws following our ideology and religion. West is neither in favor of capital punishment nor in publically hanging the predators. Secondly, western countries are legalizing gay marriages and sexual relations between people are not considered as bad as in our religion and culture. Countries with legalizing gay marriages are teaching us to follow their path instead of suggesting a relevant path to our ideology and values. So, the first step should be Islamic punishments against pedophiles and rapists. Secondly, Sex education should be given. Social media should launch a comprehensive campaign to educate people about these immoral practices. Third, there should be an effective judicial system that will take time to emerge. Fourth, efficient police force to help the victims in punishing the culprits. Fifth, a helpline for the victim of rape and child abuse will be useful. Lastly, we have to encourage victims to report the cases.  
The writer is a student of Political Science at Quaid-e-Azam University, Islamabad. He can be reached at [email protected]