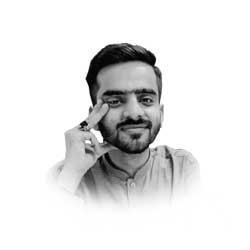 By: Syed Zain Ul Abbas
Research requires a cautious attention of study concerning a specific question or issue using scientific methods in a peaceful atmosphere as research is the method in which professors (scientists) spend their time to discover hidden facts.
Nowadays, students get worried when they hear the term Research! Our system failed to produce quality of researches during last decade due to various reasons. Those who made this possible and published their researches in an impact factor journal have failed to generalize it or making it externally valid (external validity) due to multiple factual inaccuracies.
Various factors are responsible for not producing a quality of researches in institutions of Pakistan like lack of interest of students and academic staff, deficiency of high qualified research staff, lack of fully equipped research labs, lack of research funding and other enormous reasons.
According to a survey more than 90% of our universities have no proper environment of research. Not only, even if they have laboratories or research rooms that are not fully equipped. Research environment is a distant thing most of the academic staff of our institutions don't know how to formulate a research question. I remember many professors went to abroad for post-doctoral research and produced high quality research and never came back. Almost exactly, there is another unpleasant reality behind the completing of research in the universities i.e. the people are paid to write less than no time the papers for those who paid them. Doing this malpractice can certainly aggravate an already pitfall-drenched situation.
The teachers must not be involved in all three domains at the same time i.e. community service, teaching and research. The faculty should be divided into these three based upon their interest.
It is a dire need to consider all the issues which hamper in producing high quality research. Education is the key to success we all know! In present time higher education has attained a dominant position in the procedure of success and fortune. Research is the heart of higher education, and is being given key significance around the globe. All the wealthy nations of the world have developed a 'research culture' in their academic institutions. Pakistan is far behind in research and up till now has not been successful in developing an inspiring research culture in Pakistan. Pakistan's education system needs to develop a healthy research atmosphere for its successful survival in the current era of research and technology. 
The writer is a physiotherapist & lecturer at University of Lahore. He can be reached at [email protected]