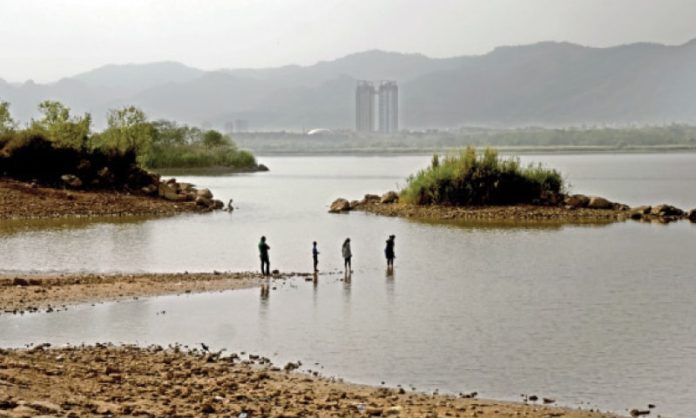 By: Asem Mustafa
ISLAMABAD: It is hot weather and there is no planning on how to tackle the youngsters who have been behind closed doors for nearly two months now. Parks, playgrounds and all recreation activities are on halt due to lockdown.
The spillway of Rawal Dam as always when opened claims human lives and it is the youngsters who drown mostly. These children came sneakily from their homes with friends and have their loved ones searching for them in deep waters when they go missing in underwater.
The local administration has many boards telling people not to swim, don't take a dip in the water. The boards are there but like the mindset of the elite that take law in their own hands and are 'lawless' by genes the same culture and nature seeps in the society.
The boards can deter a common man but not the person who has witnessed lawlessness all his life by the elites who commit crime and go free with murders. Media plays vital role in exposing the ills but is never there to mention the ill was removed or taken to task.
These children who defy the law have this opinion that with money and position one can get away with anything and with this approach they make the fatal jump. They have experienced the same, in the past when they greased the palms of authority to get the 'unrestricted bathing pleasure' but the spoiler in the scenario is the 'spillway'.
In the past hooters and sirens were blown as the spillways were opened, a safe practice of the yesteryears. Currently the funds for the hooters have dried up or they have been embezzled or hooters are simply beyond repair, water is sent down from the spillways and it takes anyone and everyone who is in the way.
Sadly these children in the rush of adrenaline and in fear are not experienced to swim out of the way from the gushing water which takes them down to the bottom.
The government dual standards as in 'rich and poor Pakistan' are evident from the fact as they allowed rich to enjoy the boating trips in Rawal Lake in lockdown and no action is taken and there have been photographs in papers but it takes no step to protect the human life that gets drowned on account of their own spillage. The actual count on Eid across Punjab is 17 so far and in twin cities it is likely to rise from 6. The heat wave is continuing and when government is not held accountable for its misdeeds, it shouldn't expect public to adhere to the rules that are but man made and is always at the toe of the elite who defy all.