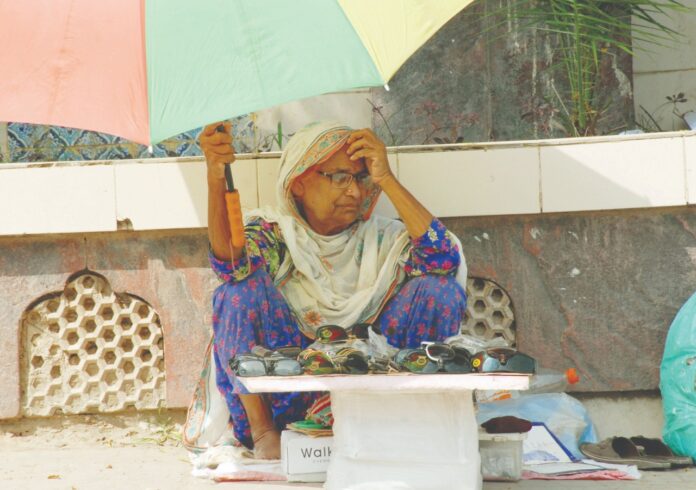 By: Asem Mustafa Awan
Old and feeble and have little and in most cases no source of income. Sitting on the roads with poor eyesight and inadequate clothes in winter these senior citizens presence leave a question mark for the policy makers hired by the state of Pakistan on salary packages that are jaw dropping.
Pakistan is held hostage by these so called pseudo policy makers having no understanding of the ground realities and are 'imported with magic wands' to set Pakistan straight.
The need of the hour for the entire nation is to come out of their clutches and for once own and adopt an approach that is people friendly and encompass all segments of society especially poor.
The sadistic nature of rules in government offices, have loopholes and rigmaroles and they are never people friendly.
The offices have people who do little and claim more and since the service rules protect them, nothing can be done to oust them from the service. They use and abuse their position as a clerk to strike deals and act as front men to many besides amassing wealth and living beyond means.
The clerks on protest a few days ago showed a new dimension to the world as strikes alone can make your demands met in 'land of the pure'.
The question for the government which bowed down to the 'protesting clerks' is what about the rest of the nation which has over 50 per cent living below poverty line? Where does this common man stand and what is done for him?
The corrupt practices in the government department has tales that can put 'mafia bosses' to shame as they do have some empathy in their hearts but not the 'merciless corrupt clerk' who charge money at every step.
The government bowed down but the real line of action would have been to identify the 'corrupt rebel rousing clerks' and their termination from service as they have made enough to last for their generations to come.
The government quarters in Sector G6-1&2 and G-7 for that matter have people who have their third generation occupying the premise. These 'scared cows' have been served notices for vacating the premises but a blatant disregard for the law is what is witnessed in these 'above the law' areas.
The government quarters are dilapidated and have been constructed for nearly half a century and the vehicles parked outside these quarters cost more than the quarter itself should give a flashing signal to the concerned authority as how does the wealth gets amassed in these quarters.
All these quarters besides illegal occupancy have multiple uses, they are sublet, they serve as warehouses and have illegal building structures that are multistoried. All this happens in 'Islamabad the beautiful' where Prime Minister Imran Khan has made it clear that there will be 'no corruption allowed.'
These poor clerks in truth are not as poor as they portray, nation suffers a lot more and is in greater misery. Government before bowing and bending down to their demands should make these corrupt 'clerk badshah (king)' an example before announcing relief.
The truth if prevailed would have resulted in termination of all these corrupt clerks. The second line of action after identification would have been the investigation of the illegal occupancy in Sectors G-6&7 and once identified these people should have been terminated. Why they are kept has people coming with one line answer 'government supports corruption.'