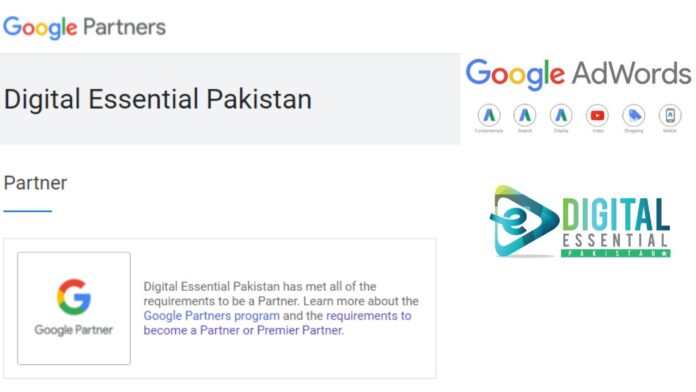 2021 is consider best year of Pakistan in the IT Sector, as we have achieved so many milestone to make our Pakistan stronger in the world of Digital. Here we are going to share with you one more achievement from our growing Digital Marketing Company based in Islamabad owned by women named "Lubna Ali"
"Digital Essential Pakistan" a Leading Digital Marketing Agency in Islamabad rewarded with Google Partner Agency Badge in 2021.
Lubna Ali CEO/operational Director of "Digital Essential Pakistan" became the first Pakistani Women Entrepreneur who acquire a Google Partner Status in this year and she is optimistic to achieve more international rewards and badges from Google Marketing Platform and Mircosoft Advertising Partner as well
What Is A Google Partner?
Google Partners is a marketing program introduced by Google Ads to appreciate the best digital advertising agencies and digital marketing professionals around the globe. It is no easy feat to become a Google Partner. Only about 10% of all agencies listed Google Partners Agency around the globe
How Does an Agency Become A Google Partner?
An agency can only achieve this Partner status when they have:
Demonstrated the highest standard of Google Ads management
Met a higher spend requirement across managed accounts and campaign types to show that the agency is proficient at managing diverse campaigns at scale
Met the performance requirement by delivering solid overall Google Ads revenue and growth, and maintaining and growing a happy customer base
Benefits of a Google Partner Status
Google Partner Status facilitates both users and agencies. Google providing advance level of support and trainings, Community membership and product updates ad much more to partner agencies.
This Partner badge shows their customers that they are an authority in their market, and it gives them access to training and supports directly from Google.
And on the other hand Google help internet user to find trust worthy agency for their deliverables so that's they can trust the company to be able to serve their needs and deliver high-quality service.
if you want to achieve this badge Here is the guideline: https://support.google.com/google-ads/answer/9028798?hl=en