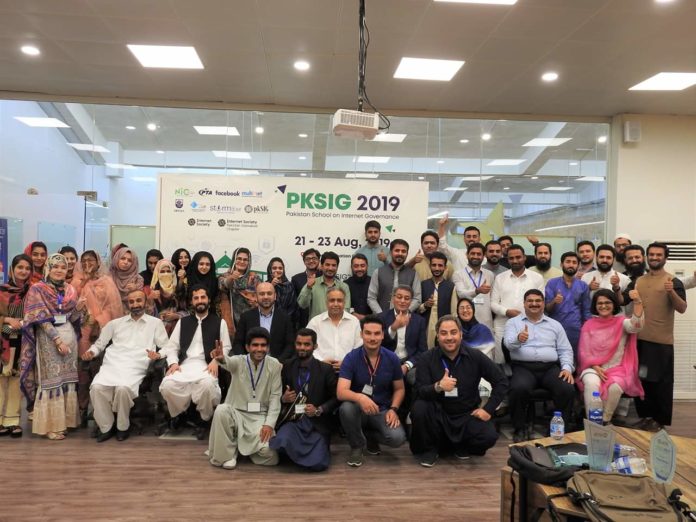 Quetta – The 3 days long school on Internet Governance has been concluded on Sunday in Quetta at the National Incubation Center, Quetta. It was conducted by the Secretariat of PKSIG, Internet Society Global and InternetSociety Islamabad Chapter.
The PKSIG aims to help individuals from Pakistan to better understand the global and regional Internet Governance issues, settings, and processes, while gaining access to comprehensive and structured knowledge on various aspects of Internet Governance, and the actors, issues and settings surrounding it. This is the 5th school happened in Pakistan so far, previously it has been conducted in Islamabad, Lahore, Karachi and Peshawar.
The 3 day long school started on Wednesday August 21st, 2019 and concluded on the evening of Friday 23rd August, 2019 with intensive learning sessions spanning several tracks. The sessions covered the political, legal, economic, socio-cultural, technological and other dimensions of the InternetGovernance within the context of the Regional and Pakistani national imperatives.
Over 60 people participated (with one third female participation) in the session including the students, professionals, startup founders, speakers and some guests who showed keen interest in the program. The participants were selected through 4 weeks long registration process- using the two tier shortlisting manners 35 students were picked and 5 were awarded fellowships. Since all the sessions were livestreamed, a sizeable audience participated online as well. The sessions and presentations are available online at the website of PKSIG.
The sessions included this year were Internet Governance – Introduction, History & Principles, an intro to I* Organizations (IDNS, APNIC, ICANN, ISOC, IETF, ITU), Internet Ecosystem in Pakistan and the Digital Landscape, Cyber Security, addressing cyber crimes, Accessibility, Startup and SMEs, Artificial Intelligence and Emerging technologies as well as several grants and fellowships that Internet Society Global and its concerned organisations offer to facilitate its users.
Parvez Iftikhar who is an ICT Consultant and also leading the PM Task Force delivered some key sessions and stated, "Its our 5th consecutive year conducting PKSIG in Pakistan, each year in a different city but the experience this year in Quetta has been remarkable, due to extraordinary participation by university-level students and young professionals – in particular the women. Such vibrant participation has not been seen in any other city of Pakistan" He also emphasized that the use of the internet has opened up new avenues for women and youth to look for alternate career choices hence we see new solutions on innovation horizon almost every other day.
Talking to the participants in the ice breaking session, Naveed Ul Haq who is the Regional Development Manager, Asia Pacific stated "Happy to see how pkSIG has evolved in past 5 years, becoming Pakistan's premier capacity building event on Internet Governance. The school not only invites stakeholders to learn and deliberate on Internet issues, but also builds resources to expand IG knowledge among their local communities. This year am particularly pleased to observe active participants from Balochistan contributing to the success of this 'first-ever' IG related activity in Quetta". Further adding to this, he mentioned that ISOC initiated pkSIG along with local partners and community back in 2015, and we look forward to continuing our support to further strengthen this community-led event through our Islamabad chapter.
Other partner organizations and supporters for the Pakistan School of InternetGovernance were Facebook, National Incubation Center, Quetta, Pakistan Telecommunication Authority, Stormfiber, Multinet, Apasa, Ecommerce Gateway Pakistan Pvt. Ltd.