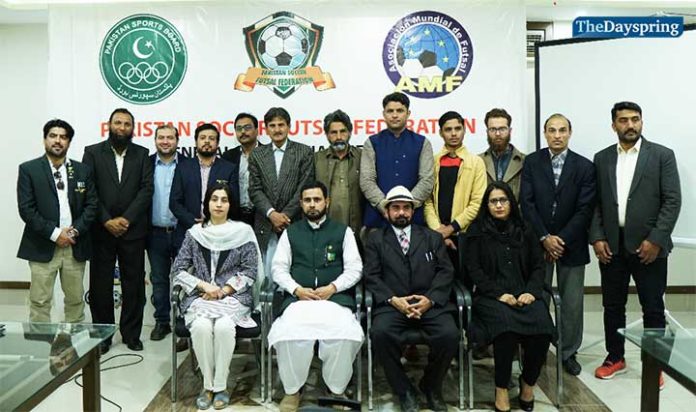 By: Our Staff Reporter
ISLAMABAD: Pakistan Soccer Futsal Federation (PSFF) is going to set up its basic structure and revealed future activities throughout the country. In this regard, the first General Provincial meeting was organized in Islamabad in which members from different provinces of Pakistan participated. The PSFF chairman Sardar Rafiq R Sanjrani, President Haji Tariq and General Secretary Mubasher Sanjrani were also present along with other officials of the federation. The agenda of the meeting was to introduce infrastructure of PSFF along with its vision, objectives, future activities, introduction for the development of Provincial and District associations, and to the new website of the Federation.
General Secretary Mubasher Sanjrani said that Futsal is a fastest growing sport among the youth in Pakistan which need to be well managed and also proper futsal platform needs to be implemented in the country such Futsal leagues, tournaments and championships both nationally and internationally. He also mentioned that for the first time in Pakistan the District associations, Futsal clubs and Futsal players can now be registered officially with Pakistan Soccer Futsal Federation by visiting the official website of the federation by simply downloading the registration forms and fulfilling the requirements. The Registered Futsal clubs will be given membership certificates by which they will be allowed to participants in future Futsal events, National Pakistan Futsal team trials and other official platforms across the country and it will help to create players and clubs database. He said this is the greatest opportunity for Futsal players and clubs to be associated with such a great Federation who are working with professionalism and dedication.
Shahista Laghari from Balochistan Women Futsal association also shared that many different age group girls are practising futsal in different areas but unfortunately, no proper leagues or tournaments are being conducted at both national and international level for them, but now with new PSFF body, things are going in positive directions that will help to organized such events in Pakistan mainly Coaching courses.
In the last, Chairman Sardar Sanjrani and President Haji Tariq Mehmood appreciated all the members who travel long distances just to attend the meeting and show their enthusiasm to be part of PSFF. The Chairman also shared that the Federation is making all its efforts to bring professional foreigner futsal coach for the first time in Pakistan who will help to select and train both male and female futsal national players in different age categories apart from conduction Futsal coaching courses.