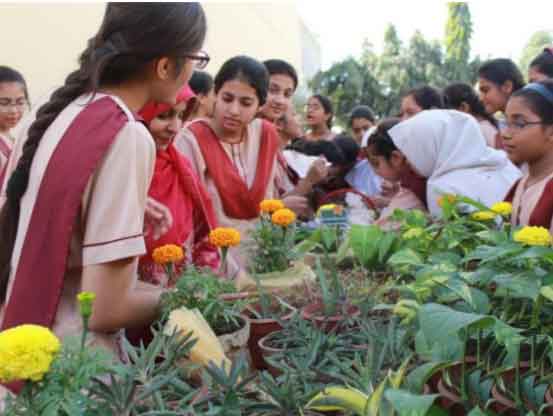 KARACHI, 27th Feb, 2019: Habib Girls' School is the winner of the Asia-Pacific Region Best Bronze Business Plan Award chosen by a panel of international judges.
In 2018, 1,137 schools set up a business through taking part in the School Enterprise Challenge: a global entrepreneurship programme which supports students and teachers to plan, set up and run a school business. Students learnt valuable 21st century skills and used the profits they generated to support their schools and local communities.

In order to solve the problems of pollution and extreme climatic effects, students of Habib Girls' School aimed at contributing to the local plantation drives and started their school enterprise, Graines d' Amour. The business encourages people to give plants as gifts instead of bouquets which dry off within a week whereas if you gift plants you can plant-a-gift and enjoy the gift flourish for years!
The business is unique and promotes the objective of plantation that is essential for overcoming pollution and heat which are severe issues for the city. Moreover, the idea supports the current plantation drive observed in the country and initiates the concept of giving plants as gifts.

Students in the School Enterprise Challenge are involved at every stage of their school business. Over the course of the programme, students write a business plan, conduct market research and balance a budget – and all this is in on top of making and selling their products or services!

"We are on a mission to tackle youth unemployment and the 'learning crisis'. The impact shown by these winners reminds us why it is so important to give young people the skills and experience to become the job creators of tomorrow," says Nik Kafka, CEO of Teach A Man To Fish.

Sustainability and social responsibility is at the heart of the School Enterprise Challenge. In 2018, student teams generated an impressive average profit of $390 and used these funds to support their schools or important local causes, as well as re-invest in growing their businesses.

"Participating in the School Enterprise Challenge had been a great opportunity for not only the students but for the teachers as well. It allows students to not only experience hands-on learning but to impart life skills as well which is going to benefit them in the long run. Teachers are able to engage students with more real life examples and practical learning. The students are learning to be great entrepreneurs while contributing positively for the community and society," says Fouzia Faisal, Teacher at Habib Girls' School.

Habib Girls' School is leading the way in sharing the positive impact of school businesses, not only for students, but for the Pakistani community as well.

The 2019 School Enterprise Challenge opens for registration in late February. Visit schoolenterprisechallenge.org for more information.