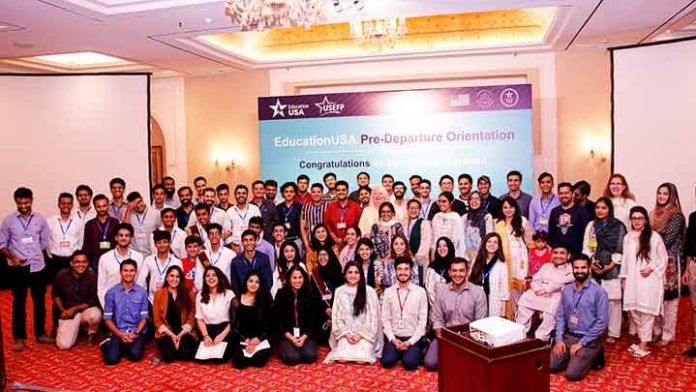 Islamabad, July 17, 2019: 86 students gathered in Islamabad for pre-departure orientation to study in United States under the program 'EducationUSA' at United States Educational Foundation in Pakistan (USEFP) . EducationUSA at the United States Educational Foundation in Pakistan (USEFP) hosted this annual pre-departure orientation (PDO) – one of three such events across Pakistan to prepare approximately 200 students that participated in EducationUSA advising programs for undergraduate, graduate, and post-graduate studies in the United States.
"Studying abroad in an American university will allow for invaluable academic, professional and personal growth, and open up a variety of career opportunities for Pakistani students," noted Christopher Fitzgerald, the Minister Counselor for Public Affairs at the United States Embassy. "Living and studying with a diverse range of people in the United States enhances any student's ability to interact with people from other cultures and analyze issues with a global perspective, both essential skills for success in any field."
The PDO is the final step in EducationUSA's advising process, which guides hundreds of Pakistani students each year through the application process for admission to colleges and universities in the United States. The PDO is a moment to recognize students' hard work throughout the previous year, and to celebrate their successes before they depart for campuses across the United States.
"It was really nice to be in a room full of people embarking on the same journey as I was," said Alezeh Mumtaz, who attended the 2018 PDO in Islamabad before starting her undergraduate studies at the University of Michigan, Ann Arbor. "Being able to connect with people beforehand made me feel like I wasn't alone."
According to the Institute of International Education's Open Doors Report, over 7,500 Pakistanis studied in the United States during the 2017-2018 academic year, a 7.4 percent increase over the previous year and the highest total in six years.
Rita Akhtar, Executive Director USEFP, said, "It is a goal of our organization to expand opportunities for Pakistani students to study in the United States. With more than 4,000 U.S. universities to choose from, many offering some type of financial assistance, Pakistani students have study opportunities of which they may not be aware. We are pleased to work with EducationUSA to help Pakistani students achieve their higher education dreams."
Many of these students are familiar faces to EducationUSA advisers in Pakistan, who work with prospective students on all parts of the application process, from compiling a list of schools to which students will apply, to securing financial aid, tackling application requirements, and applying for visas. EducationUSA is a U.S. Department of State network with 450 advising centers in more than 175 countries and is the official source on U.S. higher education. All EducationUSA advisers in Pakistan have U.S. degrees.
In addition to signing up for free advising services offered at USEFP, students are encouraged to attend a wide variety of free workshops and seminars held throughout the year. USEFP also manages the prestigious Fulbright Student Program and several other scholarships and fellowships for Pakistani students interested in studying in the United States.