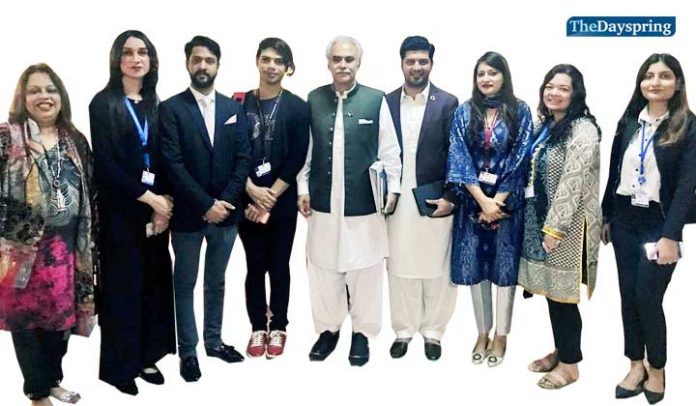 By: Editor/Asim Nawaz
NAIROBI, Kenya: Pakistan's delegation, comprised of government officials including State Minister for Health Zafar Mirza, youth, civil society activists and media persons is attending International Conference on Population Development (ICPD25) in Nairobi the capital and the largest city of Kenya. Saqlain Syedah, Pakistan High Commissioner in Keneya organized a pre-conference briefing and meeting for Pakistani delegation.
The Nairobi summit marks 25 years of the landmark International Conference on Population and Development, held in Cairo, where 179 governments adopted an action plan for women's empowerment and sexual and reproductive health for all.
In the pre-conference briefing session with delegation of Pakistan, Minister ensured his support in the context of SRHR and youth participation at all levels. He also proposed a follow-up strategy/mechanism to highlight and address issues of young people and SRHR in Pakistan and to cater them effectively. A national statement/commitment was shared with all youth leaders by the minister which is also to be presented in Nairobi Summit.
Youth Delegation led by National Youth Alliance on Family Planning and SRH. Some of the suggestions were carried out in response to the National commitment by mutual consensus of all Youth Leaders which were presented and requested to minister by Mr Fsahat Ul Hassan of Youth Advocacy Network (YAN). The suggestions were to acknowledge and commit Youth Friendly Health Services for everyone and to provide equal opportunities to Trans people to promote more inclusiveness at all levels.
After the session, a joint statement was issued by the youth representing Pakistan stated as 'Now we the Youth are ready to implement comprehensive, timely, good quality sexual and reproductive health services and rights and time is now to work under rigorous follow-up mechanism with the support of Government of Pakistan'.
Minister also assured that Ministry of National Health will also organize a follow up meeting of ICPD25 after the Nairobi Summit.
Join Our Facebook & Twitter Officials: www.facebook.com/thedayspringnews/ www.twitter.com/dayspring_news