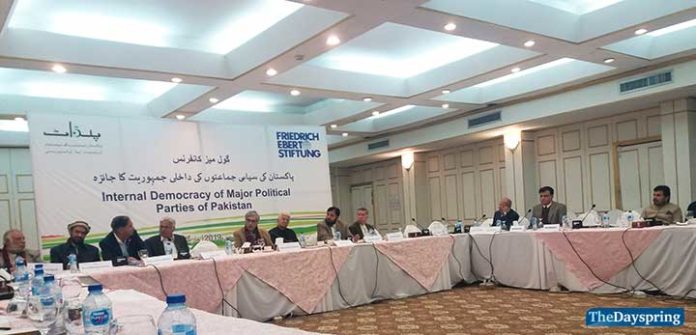 ISLAMABAD, 19th December 2019: Round-table Conference was organised by the Pakistan Institute of Legislative Development and Transparency-PILDAT, in collaboration with Friedrich Ebert Stiftung-Pakistan on Internal Democracy of Political Parties of Pakistan. Representatives of all major political parties of Pakistan including media, academia and civil society gathered together to stress upon the need for promotion of intra-party democracy in Pakistan.
The Roundtable Conference took place to address important questions on the subject: How important is democracy within political parties?. Why is intra-party democracy not given importance by people, as most popular parties are the least democratic? And How can political parties be institutionalised instead of being lengthened shadow of their leaders?
Key Representatives from major political parties included Mr. Arshad Dad, Senior Vice President, PTI, Dr. Tariq Fazal Chaudhary, former MNA and former minister, PML-N, Syed Nayyer Hussain Bokhari, former Chairman Senate and Secretary General, PPP, Mr. Aslam Khan Ghauri, Deputy Secretary General, JUI-F, Mian Muhammad Aslam, Naib Amir Islamabad, JIP, and Senator Mir Tahir Bizenjo, NP.
Some other distinguished discussants included Mr. Afrasiab Khattak, former Senator and former member ANP, Mr. Wazir Ahmed Jogezai, former Deputy Speaker National Assembly of Pakistan, Dr. Niaz Murtaza, Senior fellow UC Berkeley, Mr. Ayaz Wazir, former Ambassador, Hafiz Tahir Khalil, Bureau Chief Islamabad Jang and Lt. Gen. (r) Talat Masood, former Defence Secretary. In addition, members of academia and civil society participated in large numbers.
It was stressed that continuity of democratic process would bring the real democracy within parties and in the country as well.
Earlier, Mr. Ahmad Bilal Mehboob, President, PILDAT opened the Round-table Conference by welcoming the guest speakers, discussants and participants, and explained the purpose and objective of the exercise. Ms. Amna Kausar, Projects Manager, PILDAT presented an introduction to the roundtable and key findings of PILDAT's work.