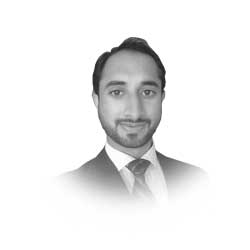 By: Abdul Shakoor Shah
Repetition of PM's famous "I" and reference to Shokat khanam has lost its vitality.
The start with qurani ayat and the next phrase is contradictory. The first phrase tends to religious sympathy and the next is nullifying the very concept. The word "circus" and "diesel" are not up to the PM's standard.  Tiger force and its activities are only limited to PM. There is no public benefit of this force yet. The Pauses and disarrangement of sentences show confusion and ambiguity of the subject under discussion. Word "actors" for PDMA proves their art and skills of politics.  The phrase "volunteer force made of citizens" we have to think either it is made of citizens or PTI's. PM with sleeves up seeming to be ready for the ring stressing on citizens' protection but price hike has  shaken the bone marrow of the masses where is protection?
Repetition of PM's famous "I" and reference to Shokat khanam has lost its vitality. If we compare the progress of cancer hospital in more than two year govt.'s performance it is no less than a circus itself. The PM was advised of public help for fundraising but now he is not getting advice to raise public. "People helped in cancer hospital," in other words it is appreciation of Mr. Nawaz Sharif too as a contributor. "Pakistani nation raises up in difficulty" but now she is not in a position to even move. PM linked wheat shortage to climate change so what was the purpose of making wheat and sugar inquiries if climatic change was responsible.
A lay man has interest in bread and butter rather than trade deficit. Petrol, gas and "I am intentionally not naming diesel," may make the PTI crowd laugh but it is not a good tradition that Mr. PM is starting. Such linguistics may mar the ethical foundations of the nation and especially the posterity. Nation is not interested in political linguistics, rather they are hankering after some relief. Reference to import of 60% pulses is again proof of our agricultural failure. A lay man does not have knowledge of economics. Shortage of wheat shows the inefficiency of the govt. which failed to plan out how to tackle it in time. PM's Claim of faulty system which did not let govt. knowing about shortage before time is the proof of mishandling the issues as being head of the state .
"Tiger force has to check price lists", price lists are displayed but not followed. It means the masses will suffer further instead of taking a sigh of relief. For sending pictures national awareness can be beneficial instead of spending on Tiger Force. Referring to sugar mafia PM hit PMLN and PPP but sugar mafia is also part of PTI. Still there are announcements of the plans but masses want something practical instead of plan AB and C. Jumping back to "Night circus" PM's smile showed that he was going to entertain the crowd in the circus shape sitting. Use of left arm and index finger sign, Moving to left side, use of "I" shows that there was a lot of undersurface meaning. "The speeches of two children" namely Mr. Bilawal and Maryam and Unethical word Nani is not suitable for a PM. Despite his assertion of not talking about "two children", he took a famous U turn by talking about them. "The earners of illegal income", is inappropriate from all angles.
"Twelfth man" but sometimes the twelfth man plays wonders. Displaying pictures of Nawaz Sharif before and after departing for London is not justifiable to get rid of the government. failure of mishandling the issue. It is incompetency of govt. to realize the actual situation later on. The man in the streets is the harbinger of PTI's compromise on Mr. Sharif's departure. If Mr. The PM knew Nawaz Sharif well then why did he let him go? PMLN's rhetoric against institutions cannot be coped with Personal hitting.PTI has to develop counter Propagation to handle it. "Moodi's govt. is the worst in Indo-Pak," but Mr. PM had good omen of Moodi which manifests his inaptness of understanding. It is the fact the political turmoil in the country has pushed many hot issues back like Kashmir and politicized media is responsible for it. While using the word "jackal" PM's facial expression, body language, tone, intonation, stress utterly changed. The smile changed to aggressive outflow.
Calling Mr. Sharif as army manufacturing and military reference in other words shows military intervention in politics and how we can say it is not being going on now. The words "sarya" and "shoe polishing" are not up to the PM's linguistic standard. Blaming the judiciary for supporting Sharifs in other words is the failure of the present govt. to bring reforms. Pm got harder and harder on the PMLN and PPP leadership. Referring to foreign books means to develop anti political aggressive discourse which will worsen the situation. It is going to be a cold war like Sipah e Sahaba and Shia Suni unrest. Referring to the two leaders as Mir Jafar and Mir Sadiq is showing red cloth to the bull.
Mentioning support of Indian media to Nawaz and use of word "Choosni" will help Indian propagation against Pakistan. Calling kh Asif "Sialkot rungbaz" and revealing his contact to Mr. Bajwa is once again an inappropriate and politicizing arm. "There will be different pm now," with typical signs of challenge and using the word "dako" regarding production orders will ill educate youths.  Stressing high profile corruption cases, the PM forgot Public cases lingering for decades. The talk of anti Pakistan forces support for Mr. N Sharif namely India and Israel are not in favor of national interests. "It is my utmost try to bring you back," so there are many others to be brought back, the word try shows that PM is not sure to bring him back.  He again made a typical sign of challenge. So far as the agony of the subject is concerned, bringing Nawaz Sharif back can be a problem of PTI but it is not the issue of the public. Public wants relief than Sharif.  
The writer is Professor in English and freelance columnist, he can be reached at [email protected]