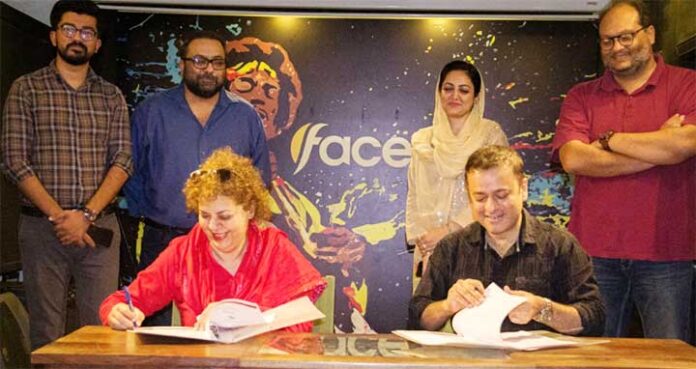 News Desk
ISLAMABAD: Pakistan has a thriving music industry, however the artists find it difficult due showcase their talent due lack of opportunities and financial constraints. The music industry's human resource constraints and limited opportunities will be bridged with technology platform integration and training initiatives. Face Foundation and RINSTRA sign a memorandum of understanding to grow the creative industries in Pakistan.
The MOU signed between RINSTRA and FACE envisages creating capacity building initiatives for the local artists, musicians' and storytellers through interactive workshops, seminars and courses on specific themes. Both the parties will work together to help local artists for new skill development that can empower them with economic opportunities as well. Both RINSTRA and FACE will create a hybrid pool of media content (music videos, sketch of artists and behind the scene videos) so the artists can increase their reach in the digital world.
Speaking at the occasion Chief Creative Officer of RINSTRA, Misbah Ishak Khalid said, "This is a milestone for the music industry of Pakistan as this will create opportunity for new talent to discover, create, showcase and monetize on their creativity". She further said, "RINSTRA provides the musicians of Pakistan to create their own channels, so they can show the world their creative arts and be part of the internet economy". "This partnership will not be limited to new talent but indigenous and folk treasures of our great country", she added further.
TCEO FACE, Foundation for Arts, Culture and Education, Zeejah Fazli said, Our immensely beautiful heritage and music of Pakistan had become endangered because our indigenous musicians had no training and exposure to technology and various digital platforms prevalent nowadays. FACE through its project "Heritage Live" will bring a new wave in the country that shall not only improve the livelihood of these musicians but also preserve and promote our cultural heritage. Having PPAF as our prime supporter and strategic partnership with Lok Virsa and Rinstra I am looking at a more thriving music industry that is the real image of Pakistan.
Zeejah added that FACE also plans to work closely with Rinstra on its upcoming edition of FACE Music Mela which is the largest music festival of Pakistan.
Dr. Adil Akhtar Chairman and Co-founder, Rinstra Technologies, said in his message that, "we welcome FACE as a strategic partner, as this will set new precedence in the country for the music industry. We are confident that, this will encourage Pakistani artists to initiate new dimension of cultural diplomacy, where Pakistani talent can attract music enthusiasts from around the world.
RINSTRA and FACE have previously collaborated on Heritage Live, the Residency program for Folk Artists at Lok Virsa Islamabad. The Residency Program was supported by the Pakistan Poverty Alleviation Fund (PPAF) and the Lok Virsa, housed 20 indigenous musicians for an extensive training program by mentors from the industry. For this RINSTRA equipped musicians with the state of the art cellphone, for recording their work and share on social media.
FACE Foundation encourages artists and artisans to create relevant and socially viable works in their communities, while providing avenues to engage and connect with wider audiences and build revenue streams. Through publicly accessible programs and collaborative multimedia productions FACE provides a platform for the generation and exchange of ideas leading to positive social change.
RINSTRA is Pakistan's first short-form digital media platform for on-demand streaming and for creation of user generated original content on iRinstra. RINSTRA content is innovative, entertaining, thought-provoking, informative and educational. RINSTRA provides entrepreneurship opportunities to emerging and established content creators in the field of film making, music videos, individual short videos, web-series, discussion shows and etc. in Pakistan and beyond.
Rinstra gives content creators access to a large Pakistani community around the globe. The state-of-the-art Rinstra platform offers content creators to discover, create, showcase and monetize for their content creation and creative pursued.