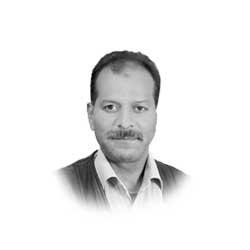 By: Asem Mustafa
They have past their prime; they are old, weak and have survived many years as their utility in meat is also not servable.
The feathered pair with rooster made a gesture which melted over a million hearts besides as many clicks and more on the social media as Karachi mega city of the world unfolded many a stories during floods.
The lesson for human beings come in many forms and those who seek inspiration, it is but a sign, a line or a signal that lift the spirits to another level.
The care and compassion showed by the feathered pair depicts the unfathomable commitment which is honored and cherished with every passing day and together it reads 'till death do us apart'.
It is not known what happened to the feathered pair afterwards. Did it survive the rains or not?
This viral video a month ago has sent a message across globe for humans to learn from birds which unlike humans are with pure and unadulterated spirits.
The two have been on the street and they are finding solace in each other's company. The rain has made the ground wet and they are finding a higher spot by a couple of inches to sit together and not to get drenched.
The two also depict the societal decay which in order to progress leave and dump their old behind.
The small video is of Karachi, provincial metropolis of Sindh province which faced massive devastation during rains a month ago.
The rooster along with his pair, an old hen is all soaked in rain and both are keeping themselves warm.
The receding water flushed away fortunes of thousands. The exact details as per official statistics are always fudged very much the trumpeted arrest of Abid Malhi who voluntarily submitted to police while the news stated otherwise with police arresting the most wanted criminal and taking maximum of airtime on a false pretext.
How many houses were gutted, how many people lost their life belongings, how many people were electrocuted and how many were drowned and how many committed suicides and how many died of disease are all some of the facts if collected would result in a dark picture unlike the picture painted by the authorities.
Still no respite the federal government and the Sindh government are at logger heads and there is no respite for the poor. The first and foremost is the wheat crisis that has gripped the nation and the prices of flour has gone up which is causing an unrest in the public.
People in power somehow fail miserably in getting answers as how many flour mills, sugar mills, steel mills and oil mills etc. are in total in the country and how many are owned by people in government and in opposition. How much is the production, how much gets exported and how much is imported. These simple queries make serpents and dragons hissing and striking which results in public perishing with the venom which seep into their blood and life stream.
How many adulterators have been put behind bars and fined who have fed people on edibles not fit for human consumption. The stories for media are but a show piece in which public emotions are culled on false pretext.
So much is there to write about but empathy lacks from policy makers who make project presentation in power point and present a report which shows all is good. The fact of the matter is all that is projected is absolutely wrong and there is no one to check.
All the lives lost along with material is unaccounted for, a natural calamity swept away the fortunes ending up in the ocean.
The old and weak rooster pair sends a message if interpreted correctly and is deciphered for the 'big wigs'controlling 'land of the pure' is to show sympathy towards the 'lowly subjects' who have very little to live on.
Governments the world over give relief and in the current time the uncontrolled mafias and cartels are hell bent in making money from the public which is very little and next to nothing purchasing power.
All is not lost Prime Minister Imran Khan with his vision and thought which encompasses the poor in all his national addresses should look closely at his team members especially the people who are mill owners and ask them what relief measures they can adopt for the masses who are faced with hunger.
Men, women and children jumping in rivers and canals are daily news items and the only reason for doing this extreme act of suicide is 'hunger'.
What steps are underway to curtail the most deadly of disease which is identified as 'hunger'? Is there any remedy taken?
The food basket nationwide stays empty and has soiled fruit and vegetables which happens only because empathy added with compassion stays missing from top to bottom from people who have dual loyalties and nationalities.