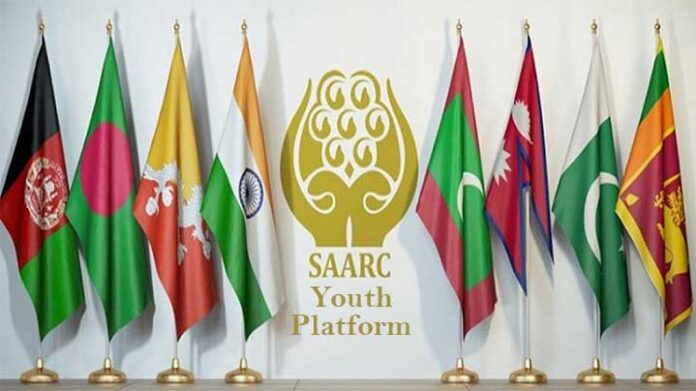 By: Our Correspondent
ISLAMABAD: To mark International Day of Peace 2020 and the 75th Anniversary of the United Nations, young leaders from South Asian Association for Regional Cooperation (SAARC) launched 'SAARC Youth Platform' during a virtual conference attended by youth from across the SAARC region. The platform is lauched in succession to South Asian Regional Youth Conference on Post 2015 Development Agenda that was held in 2014 by Youth Advocacy Network in Pakistan to mobilize young people of SAARC countries.
Fsahat Ul-Hassan – Convener of SAARC Youth Platform and CEO of Youth Advocacy Network said, "The Youth platform on this International Peace Day will not only bring peace in the region but also harmony among governments and partnership amongst SAARC nations." He also said that "National Youth Councils of the SAARC countries have not yet been established due to lack of coordination and we hope that governments pushing the youth agenda with the support of other Member Organizations would be able to launch the youth councils and highlight the youth voices and provide them with the right platforms at government level as well."

Elana Wong – Asia Pacific Regional Focal Point, United Nations Major Group for Children and Youth, Ram Bandu Subedi – Joint Secretary, Ministry of Youth and Sports, Nepal, Dr. Nagesh Kumar – Director and Head, SSWA, UN ESCAP India, Kirsty Rancier – UNODC Advocate for the SDGs, Emiliya Asadova, Co-Chair – APINY, Programme Analyst, United Nations Volunteers, Daya Sagar Shrestha – SSWA Focal Point, Asia-Pacific Regional CSO Engagement Mechanism, Dr. Nishchal Nath Pandey – Chairperson South Asia Foundation, Sanila Gurung – Program Director, Beyond Beijing Committee, Nepal, Mursal Kakar – Global Peace Chain Ambassador, Youths Commitment for Change Organisation, Afghanistan, Lewe Paul – Desk Officer for South Asia Berlin, Mr. Konrad – Adenauer Stiftung e.V, Germany, Anuj Rai Petter – Program Coordinator, Blue Diamond Society, Nepal, Saumya Aggarwal – Peace and Security WG Coordinator, SAARC Youth Platform, India, Nanki Kaur – Regional Programme Manager, International Centre for Integrated Mountain Development, Nepal, Johannes Vogel – Programme Coordinator Asia Kindernothilfe e.V. Duisburg, Germany, Tasnila Ahmed – Program Officer SERAC Bangladesh, Ariel Odtojan – Regional Advocacy and External Engagement Manager, World Vision International, Asia Pacific Region, Philippines, Jekulin Lipi Saikia – Asia Pacific Regional Focal Point, Sendai Stakeholders Youth Group, India, Kalpana Kulung – Administrative Coordinator SAARC Youth Platform, Nepal, Aashish Khullar – Board Member SAARC Youth Platform was among the notable speakers for the SAARC Youth Platform Launching Ceremony and Virtual Round Table Panel Discussion entitled "Youth Engagement for Peace, Democracy, Planet and Prosperity in SAARC''.
In the Opening Session, Ms. Elana Wong congratulated SAARC Youth Platform on the Launch Event and considered it a timely event for youth engagement for global peace, prosperity, democracy and conservation of the climate, stating that these initiatives are only sustainable when introduced at a global and regional level. Ram Bandu Subedi highlighted the focus of Nepal's Government in achieving prosperity through youth engagement and expressed the importance of intensive debate, rationality and partnership with Civil Society Organisations for the attainment of the regional goals. Nagesh Kumar said that he has confidence in youth as the change-makers to bring sustainable development whereas he emphasized the lack of access to education as compared to other countries in the Asia Pacific region. Ms. Kirsty Rancier expressed how the pandemic has exposed the already present societal gaps and called on young people for strengthening of the youth networks to achieve the 2030 agenda. Emilia Asadova voiced the need to strengthen the voices from South Asia which have not been very loud and expressed readiness for working with youth networks for peace and prosperity. She also urged the youth to remain hopeful in the face of the pandemic and offered technical support from the UN for policy dialogue and capacity building. Mr. Daya Sagar Shrestha shared his opinion that COVID-19 is not the only pandemic the region is facing, but there are also pandemics of injustice, inequality, bad governance and climate crisis. South Asian people are being marginalized and corruption, radicalism, militarization, intolerance, sexual violence are rampant in the region.
In the Panel Discussion on "Youth for Peace and Democracy in SAARC", the youth advocates highlighted the division among nations resulting from politics and lack of peace at borders, and called for a better understanding of democracy to ensure regional and global peace. They also mentioned that the environmental effects of the pandemic must be focused on alongside the well-recognized health effects. Diversity of youth must be considered for a better future and rights of all must be secured.
In the Panel Discussion on "Youth for Planet and Prosperity in SAARC", the call for sustainable mountain development in the region was vocal due to the vulnerabilities of the populations in the HinduKush Himalayan region. It was also discussed that the violence against children and youth results in their less meaningful participation in decision making processes. Therefore, the governments of the SAARC region must make the right platforms easily accessible so the young people will not stay behind than the other regions and work for the prosperity in the region.