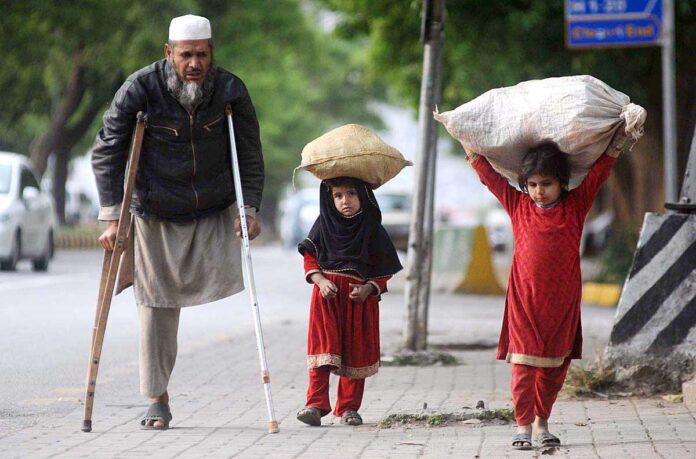 By: Our Special Correspondent
There is no amount of words which can describe the pain and agony in penning down the day to day ordeal of the three in picture.
The two small girls holding the sacks on their head and their guardian with an amputated leg tell it all as how life goes on for the poor in the 'land of the pure'.
The two sacks on the children heads contain trash and the old man is possibly the survivor of the Afghan war who probably lost his leg on antipersonnel mine during Russian invasion or during the Coalition forces attack. His every step with the crutch is the reminder that in the end its hunger, which is real, will rest everything is but secondary.
Pakistan has hosted millions of Afghan refugees since 1980's and for decades onwards they are now part and parcel of Pakistan's culture. The problems ensued with their arrival was not addressed timely and unlike Iran which managed Afghans at its border in a systematic way, Pakistan failed miserably.
The drugs and weapon all from the Russian invasion and from Coalition troops find its way to Pakistan due to porous borders which at present are managed and watched vigilantly by the security agencies.
This is picture taken in Islamabad as finding it harsh in the refugee camp the family in picture made it to federal capital.
What are the protocols observed for these Afghan refugees is mentioned only in paper and in power point presentations what is done in reality is never seen.
There have been numerous reports of smuggling and contraband items in across the border and the corruption has been an established norm in the offices that deals with aid related activities.
Prime Minister Imran Khan has made many rhetoric about ending corruption and taking the corrupt to task, but seeing is believing the videos before the Senate Elections showed that not all were caught.
The miscreants are running lose and this family in picture needs help. PM IK goes from one forum to another pleading Pakistan's case as he aspires the country to have a welfare system in which everyone is looked after.
Where are the people who register the handicapped and where the people who register Afghans refugees? These questions need answers. If these officials had done what they were supposed to do these two girls carrying trash on their heads with the handicapped old man would not be on the street.